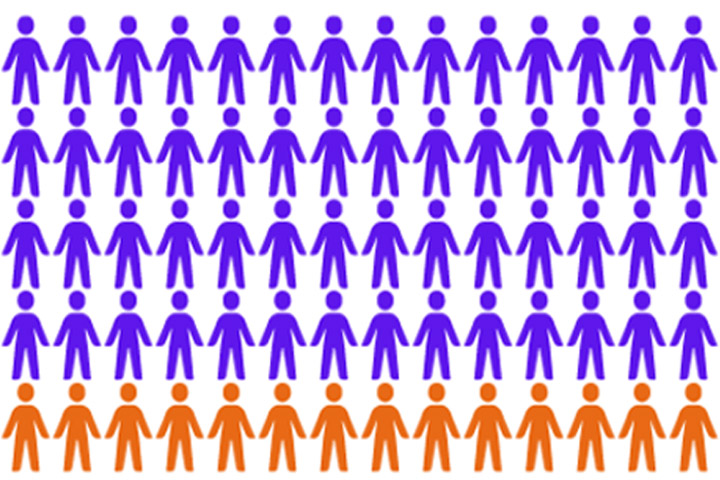 Results of 2022 gender equality survey
The Neurocampus Parity Committee (NPC) was created in 2020 to promote diversity, equity and inclusion (DEI) and combat gender-based violence (GBV) and discrimination within the neuroscience community at the University of Bordeaux.
From April to June 2022, a questionnaire was submitted to the Bordeaux Neurocampus community. The survey questionnaire is an adaptation of a questionnaire developed by the RESET 5 consortium, and was RGPD compliant.
Over a quarter of the Bordeaux Neurocampus responded, with 205 usable responses. The sample is 64% female. The average age of respondents is 40 years +/- SD 11 (range: 23-67) and significantly lower for women (38.5), than for men (40.9). 56% are tenured contracts, with a fairly strong imbalance between tenured women (50%) and tenured men (69%).
Results of the survey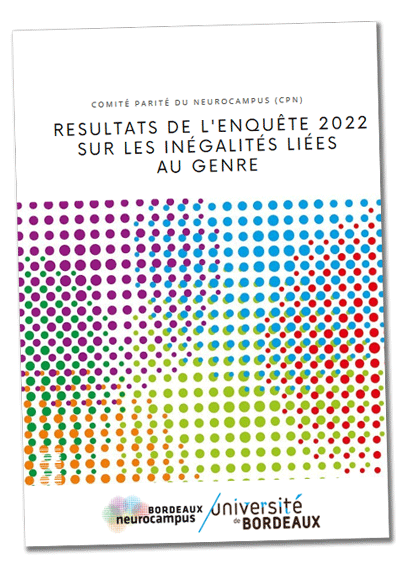 Full results of the 2022 survey here (PDF)
2022 key figures
Of 54 research teams, 79% are headed by men.
1 woman in 3 is involved in decision-making, compared with 1 man in 2.
Most funding goes to men:
– in research positions (from PhD to director), 21% of female researchers do not apply for funding, compared with only 4% of male researchers;
– conversely, 13% of male researchers are very satisfied with their success rate in funding applications, compared with only 3% of female researchers.
At the start of their careers, women are more adversely affected by work-life imbalance and parenthood:
– female non-tenured researchers spend an average of 6h30 a day on children and domestic chores,
– whereas non-tenured and tenured male and female researchers spend an average of 3 to 4 hours a day.
47% of women feel discriminated against because of their gender
23% of women have experienced gender-based violence in their current workplace.
2023-2025 key objectives of the Committee
1.Monitoring
Collect and analyze quantitative indicators to evaluate the state of discrimination and monitor its evolution within Bordeaux Neurocampus.
2.Mentoring
Promote existing mentoring actions within Bordeaux Neurocampus regarding the supervision and support of young researchers by more experienced scientists.
3.Training
Identify or provide anti-discrimination and GBV training for supervisors, anti-gender bias training for evaluators, and empowerment training for young women researchers.
4.Balancing life time
Offer solutions in the workplace to facilitate work-life balance, such as childcare.
5.Sharing
Share values and experiences about gender equity and inclusion during an annual meeting organized auround February 11 for the International Day of Women and Girls in Science.
---
For more information
Publication: 02/06/23
Last update 10/11/23