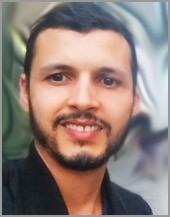 Date et lieu de soutenance:
le 12 décembre 2018, 14h à
l'amphi Broca Nouvelle-Aquitaine, Campus Carreire .
Directeur de thèse : Grégory Barriere, (INCIA – UMR5287),  équipe "Coordination et Plasticité des Générateurs Spinaux" (CPGs dirigée par Dr. Sandrine Bertrand)
Résumé
Lors de la locomotion, la commande rythmique envoyée aux muscles des membres est organisée de manière spatiale et temporelle par les générateurs centraux du patron locomoteur (CPGs) localisés dans la moelle épinière. Ces derniers sont sous le contrôle des centres supraspinaux impliqués dans l'aspect motivationnel du comportement locomoteur dont l'activité est constamment modulée par des afférences sensorielles afin de permettre d'adapter les mouvements aux changements environnementaux. L'objectif majeur de mon travail doctoral était d'explorer les mécanismes des interactions dynamiques entre (1) les centres supraspinaux, (2) les CPGs et (3) les afférences sensorielles dans le contrôle de la locomotion chez le rat nouveau-né intact et spino-lésé.
En nous appuyant sur le modèle de préparation de tronc cérébral / moelle épinière isolée in vitro, nous avons montré que la manipulation de l'organisation temporelle de la commande locomotrice en provenance de la formation réticulée (située dans le tronc cérébral) est efficace pour ajuster finement l'activité des CPGs locomoteurs. Nous avons ensuite mis en lumière l'importance des voies descendantes sérotonergiques dans l'intégration de l'information sensorielle par les CPGs locomoteurs durant la première semaine postnatale.
Enfin, en combinant des approches comportementales, neurochimiques et électrophysiologiques, nous avons mis en évidence des effets différents mais complémentaires des neuromodulateurs monoaminergiques (sérotonine, dopamine et noradrénaline) dans la réexpression du comportement locomoteur après une lésion spinale. Notre travail ouvre de belles perspectives pour la compréhension du contrôle afférent de la moelle épinière, à la fois dans un contexte non-pathologique et après un traumatisme médullaire.
Mots clefs : Locomotion, CPGs, contrôle descendant, afférences sensorielles, traumatisme médullaire
Publications
Oueghlani, Z., Simonnet, C., Cardoit, L., Courtand, G., Cazalets, J.-R., Morin, D., Juvin*, L., and Barrière*, G. (2018). Brainstem Steering of Locomotor Activity in the Newborn Rat. J. Neurosci. 38, 7725–7740. *Contributed equally
Oueghlani, Z., Lambert, FM., Cardoit, L., Courtand G, Masméjean, F., Cazalets JR., Barrière, G., (2018). Serotonergic modulation of locomotor outputs induced by sacral dorsal root stimulation in the isolated neonatal rat spinal cord. Article en préparation.
Jury
Pr. Patrick DECHERCHI
Professeur, Université d'Aix-Marseille
Rapporteur
Dr. Hélène BRAS 
Chargée de recherche, CNRS, Aix-Marseille
Rapporteur
Dr. Jérôme BAUFRETON
Directeur de recherche, CNRS, Bordeaux
Examinateur
Pr. Marina MARTINEZ 
Assistant Professor, Université de Montréal
Examinatrice
Dr. Laurent JUVIN 
Maitre de conférences, Université de Bordeaux
Membre Invité
Dr. Grégory BARRIERE 
Chargé de recherche, CNRS, Bordeaux
Directeur de Thèse