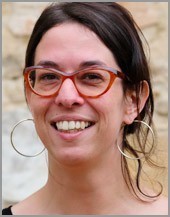 Soutenance le 7 décembre 2018, 9:30, Salle de Conférence, Institut François Magendie.
Directeur de thèse: Christophe Mulle de l'IINS, team leader : Synaptic Circuits of Memory
During different behaviors, the coordinated activity of neurons, can lead to large fluctuations, or oscillations, of the electrical activity of the brain. The coordination of specific population of neurons is thought to support many cognitive processes such as memory. While much work has characterized different oscillations and their correlated behaviors, less is known about the underlying cellular mechanisms. A substructure of the hippocampus, area CA3, is believed to be important in encoding and retrieval of memory. To explore changes that occur in single neurons in CA3 during changes in brain states, we performed whole-cell patch-clamp recordings to isolate the activity of single CA3 neurons, together with recordings of oscillations and behavior of awake mice. CA3 neurons decrease their activity during exploratory behaviors, and increase it during quiet wakefulness. This modulation could play a role in the emergence of oscillations, and underlie the ability of CA3 to perform different memory function during different brain states.
Dynamique intracellulaire des cellules pyramidales de CA3 dans l'hippocampe pendant les états de veille
Lors de comportements spécifiques, l'activité coordonnée des cellules nerveuses, ou neurones, génère différentes fluctuations, ou oscillations. Cette coordination jouerait un rôle important dans plusieurs processus cognitifs, tels que la mémoire. Bien que ces oscillations et leurs comportements associés aient été étudiés, les mécanismes cellulaires associés restent peu connus. Une sous-région de l'hippocampe, CA3, est impliquée dans l'encodage et le rappel de la mémoire. Dans le but d'étudier la modulation des neurones de CA3 lors de différentes oscillations, nous avons enregistré par la technique du patch-clamp et isolé l'activité de neurones uniques de CA3, en enregistrant simultanément les oscillations et le comportement de souris éveillées. L'activité des neurones de CA3 diminue lors des comportements d'exploration, et augmente lors de périodes de repos. Cette modulation pourrait jouer un rôle dans l'émergence des oscillations, et permettre à CA3 de réaliser différents processus mnésiques à différents moments.
Publications

"Intracellular dynamics of CA3 pyramidal cells across brain states" Meryl Malezieux*, Ashley L. Kees* and Christophe Mulle en préparation *contribution égale
Control of Spike Transfer at Hippocampal Mossy Fiber Synapses In Vivo by GABA A and GABA B Receptor-Mediated Inhibition. Zucca, Stefano*; Griguoli, Marilena*; Malézieux, Meryl; Grosjean, Noëlle; Carta, Mario; Mulle, Christophe The Journal of Neuroscience, 2017. *contribution égale
Early synaptic deficits in the APP/PS1 mouse model of Alzheimer's disease involve neuronal adenosine A2A receptors. Da Silva, Silvia Viana; Haberl, Matthias Georg; Zhang, Pei; Bethge, Philipp; Lemos, Cristina; Gonçalves, Nélio; Gorlewicz, Adam; Malezieux, Meryl; Gonçalves, Francisco Q.; Grosjean, Noëlle; Blanchet, Christophe; Frick, Andreas; Nägerl, U. Valentin; Cunha, Rodrigo A.; Mulle, Christophe Nature Communications, 2016
Jury
Francis Chaouloff
Directeur de Recherche, INSERM Président
David Dupret
Associate Professor, Univ. Oxford Rapporteur
Paul Salin
Directeur de Recherche, CNRS Rapporteur
Jérome Epsztein
Chargé de Recherche, INSERM Examinateur
Christoph Schmidt-Hieber
Chargé de Recherche, CNRS Examinateur
Christophe Mulle
Directeur de Recherche, CNRS
Directeur de thèse