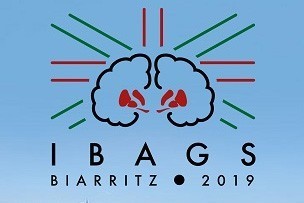 XIIIth IBAGS meeting
In a few days, the XIIIth meeting of the International Basal Ganglia Society (IBAGS) will open at the Casino Municipal in Biarritz. This meeting exists for over 30 years and with a periodicity of 3 years. It brings together scientists and clinicians working on the basal ganglia and associated disorders (Parkinson's disease, OCD, drug addiction, etc.). The proceedings of the meetings are published subsequently. This publication was presented as a book until 2010 and since then it has been published in a special issue of the European Journal of Neuroscience.
The 2019 edition brings together 300+ attendants. The meeting will open with an inaugural lecture by Professor Hagai Bergman (HUJI, Jerusalem, Israel) summarizing his scientific career. His initial work focused on the pathophysiology of motor disorders of Parkinson's disease and played a key role in the establishment of surgical treatments for Parkinson's disease. He then became interested in the physiological role of basal ganglia and contributed to the discovery of their fundamental role in the decision-making process.
The meeting will then take place over 4 days during which alternate plenary sessions and poster presentations. It will present a state of the art on issues such as the functional organization of the network, its phylogenetic development, plasticity under dopaminergic control, associated pathophysiological processes, the diversity of neurodegenerative processes, etc. This meeting is a unique opportunity to confront new ideas and hypotheses and to present new results. The three-year cycle ensures that each meeting is a witness to the emergence of significant new scientific advances. The next edition is already scheduled for 2022 in Blenheim, New Zealand.
It should be noted that a free exhibition of Ramon y Cajal drawings (courtesy of the Cajal Institute of Madrid) is open to the general public on the sidelines of the meeting.
For more information: http://www.ibags2019.com/
Thomas Boraud
Team Leader – Physiology and pathophysiology of the Executive Functions
IMN
24/04/19