G. Ferreira, P. Trifilieff et al. in eNeuro
Impact of Early Consumption of High-Fat Diet on the Mesolimbic Dopaminergic System. 
Impact of Early Consumption of High-Fat Diet on the Mesolimbic Dopaminergic System. Naneix F, Tantot F, Glangetas C, Kaufling J, Janthakhin Y, Boitard C, De Smedt-Peyrusse V, Pape JR, Vancassel S, Trifilieff P, Georges F, Coutureau E, Ferreira G.
eNeuro. 2017 Jun 1;4(3). pii: ENEURO.0120-17.2017. doi: 10.1523/ENEURO.0120-17.2017. eCollection 2017 May
Une Publication NutriNeuro (Guillaume Ferreira / Pierre Trifilieff) en collaboration avec l'INCIA (Etienne Coutureau) et l'IMN (François Georges)
---
Un régime riche en graisse modifie le système de récompense…
Un comportement identique chez l'Homme ?
Source : Université de Bordeaux
En administrant aux animaux de l'amphétamine, un psychostimulant agissant sur le système de la dopamine, les chercheurs ont activé le circuit de récompense et ont ainsi révélé des différences entre les animaux obèses et témoins. En effet, par rapport aux animaux témoins, les animaux obèses montrent une accélération de leur sensibilisation à l'amphétamine avec une augmentation non seulement de leur activité locomotrice en réponse à cet agent mais aussi de l'activation du système dopaminergique (se traduisant par une augmentation de l'activité des neurones produisant et libérant la dopamine dans le cerveau des animaux obèses).
Si ces mécanismes s'avèrent identiques chez l'Homme, ces résultats montreraient qu'une alimentation riche en graisse (pendant l'enfance et l'adolescence), conduisant au surpoids et à l'obésité, influence ce système de récompense. Compte-tenu de l'importance du système dopaminergique dans la motivation, ces effets pourraient conduire à des changements significatifs sur le long terme dans le comportement de recherche des récompenses, en particulier en augmentant la réponse à des signaux associés à des récompenses alimentaires comme cela a été montré chez des personnes obèses.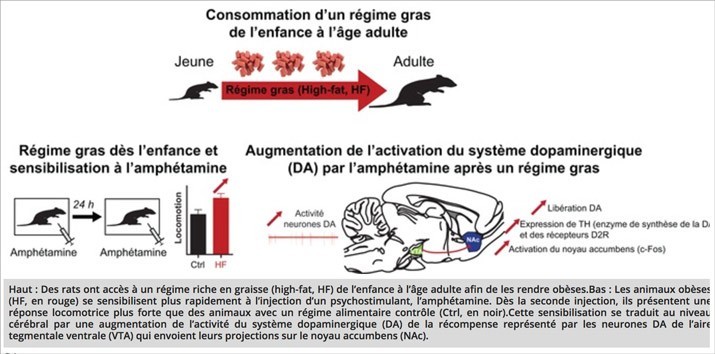 Guillaume Ferreira/ NutriNeuro/ Bordeaux Neurocampus/ Unité nutrition et neurobiologie Intégrative (Inra – Université de Bordeaux – Bordeaux INP)
20/03/18