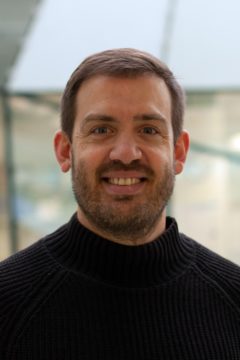 Physiopathology and treatment of multiple system atrophy
Thesis supervisor: Wassilios Meissner (IMN)
Abstract
Multiple system atrophy (MSA) is a rare, rapidly progressive neurodegenerative disease that affects numerous regions of the central nervous system, including the olivopontocerebellar and striatonigral systems as well as various autonomous nuclei of the brainstem. The pathological hallmark of MSA is the presence of oligodendroglial aggregates called glial cytoplasmic inclusions (GCI) whose main component is the protein α-synuclein. The neurodegenerative process leads to severe impairment of autonomic dysfunction, together with a varying degree of parkinsonian and cerebellar syndromes. There is currently no disease modifying therapy available. This PhD work focused, on the one hand, on preclinical approaches aiming to reduce the accumulation of α-synuclein in an animal model of MSA, and on the other hand, on a neuropathological analysis in patients with a slowly progressive subtype of the disease. Throughout the three years of work, we have assessed different therapeutic candidates in an animal model of MSA. Rapamycin, a drug known to enhance autophagy and protein clearance, showed only a partial neuroprotective effect against neural loss in our model. Nilotinib, a drug that had shown neuroprotective properties in a Parkinson's disease animal model, failed to modify the disease course in our study. Finally, we evaluated the combinations of two drugs that have already proven to reduce a-synuclein aggregation and protect neurons from degeneration, to assess whether they have synergistic properties.
Keywords: Synuclein, Multiple system atrophy, glial cytoplasmic inclusions, post-mortem human brain study, rodent, translational approach, c-terminal truncation, phosphorylation, autophagy, protein aggregation
Publications
Present and future of disease-modifying therapies in multiple system atrophy.
Lopez-Cuina M, Foubert-Samier A, Tison F, Meissner WG.
Auton Neurosci. 2018 May;211:31-38. doi: 10.1016/j.autneu.2017.12.008. Epub 2018 Jan 4
Deep brain stimulation does not enhance neuroinflammation in multiple system atrophy.
Lopez-Cuina M, Fernagut PO, Canron MH, Vital A, Lannes B, De Paula AM, Streichenberger N, Guehl D, Damier P, Eusebio A, Houeto JL, Tison F, Tranchant C, Viallet F, Witjas T, Thobois S, Meissner WG.
Neurobiol Dis. 2018 Oct;118:155-160. doi: 10.1016/j.nbd.2018.07.016. Epub 2018 Jul 17.
Inhibition of c-Abl by nilotinib does not prevent alpha-synuclein aggregation and neurodegeneration in a mouse model of multiple system atrophy
Miguel Lopez-Cuina, MD, Paul A. Guerin, PhD, Marie-Hélène Canron, BS, Anna Delamarre, MD2,3, Benjamin Dehay, PhD, Erwan Bezard, PhD, Wassilios G. Meissner, MD, PhD, Pierre-Olivier Fernagut, PhD
Submitted to Movement Disorders Journal
Inhibition of the mammalian target of rapamycin alleviates alpha-synuclein aggregation and does partly protect dopamine neurons in a mouse model of multiple system atrophy
Miguel Lopez-Cuina, MD, Paul A. Guerin, PhD, Marie-Laurre Arotçarena, PhD, Anna Delamarre, MD, Benjamin Dehay, PhD, Erwan Bezard, PhD, Wassilios G. Meissner, MD, PhD, Pierre-Olivier Fernagut, PhD
Submitted to Movement Disorders Journal
Jury
M. JABER Mohamed ; Professeur Président ; Université de Poitiers
M. SERGEANT Nicolas ; Directeur de recherche Rapporteur Université de Lille
M. DERKINDEN Pascal ; PU-PH Rapporteur Université de Nantes
M. FERNAGUT Pierre Olivier ; Directeur de recherche Invité Université de Poitiers
M. MEISSNER Wassilios ; PU-PH Directeur de thèse ; Université de Bordeaux