Venue: Centre Broca Nouvelle-Aquitaine
"Bottom-Up and Top-Down Control of Emotion Recognition"
---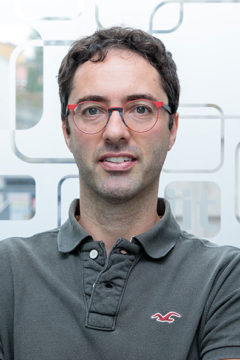 Francesco Papaleo
Senior Researcher Tenure Track – Principal Investigator
IIT Central Research Labs Genova
https://www.iit.it/people/francesco-papaleo
Invited by Giovanni Marsicano
Neurocentre Magendie
---
Summary:
The prefrontal cortex (PFC) has been implicated in processing of the emotional state of others through nonverbal communication. This social cognitive function is altered in psychiatric disorders such as autism and schizophrenia and is hypothesized to rely on an intact cortical neuronal excitatory and inhibitory balance. Here, by combining in vivo electrophysiology with a behavioral task for emotion recognition in mice, we show that neurons in the medial prefrontal cortex (mPFC) are differentially activated during exploration of conspecifics depending on their affective state. Optogenetic manipulations revealed a double dissociation of interneuron roles in emotion recognition; specifically, inhibition of mPFC somatostatin (SOM+) but not of parvalbumin (PV+) interneurons abolishes emotion discrimination. Conversely, activation of mPFC SOM+ interneurons induces social discrimination in this task. Our findings provide new insights into the neurobiological mechanisms of emotion recognition.
Selected publications:
Ferretti V, Papaleo F. Understanding others: emotion recognition abilities in humans and other animals. Genes, Brain Behavior. 2018. Dec13:e12544. doi:10.1111/gbb.12544.
Scheggia D, Mastrogiacomo R, Mereu M, Sannino S, Straub RE, Armando M, Managò F, Guadagna S, Piras F, Zhang F, Kleinman JE, Hyde TM, Kaalund SS, Pontillo M, Orso G, Caltagirone C, Borrelli E, De Luca MA, Vicari S, Weinberger DR, Spalletta G, Papaleo F. Variations in Dysbindin-1 are associated with cognitive response to antipsychotic drug treatment. Nature Communications. 2018 Jun 11;9(1):2265. doi:10.1038/s41467-018-04711-w.
Scheggia D, Zamberletti E, Realini N, Mereu M, Contarini G, Ferretti V, Managò F, Margiani G, Brunoro R, Rubino T, De Luca MA, Piomelli D, Parolaro D, Papaleo F. Remote memories are enhanced by COMT activity through dysregulation of the endocannabinoid system in the prefrontal cortex. Molecular Psychiatry. 2018 Apr;23(4):1040-1050. doi:10.1038/mp.2017.126.
Managò F, Mereu M, Mastwal S, Mastrogiacomo R, Scheggia D, Emanuele M, De Luca MA, Weinberger DR, Wang KH, Papaleo F. Genetic Disruption of Arc/Arg3.1 in Mice Causes Alterations in Dopamine and Neurobehavioral Phenotypes Related to Schizophrenia. Cell Rep. 2016 Aug 23;16(8):2116-28. doi: 10.1016/j.celrep.2016.07.044.
Huang H, Michetti C, Busnelli M, Managò F, Sannino S, Scheggia D, Giancardo L, Sona D, Murino V, Chini B, Luisa Scattoni M, Papaleo F. Chronic and Acute Intranasal Oxytocin Produce Divergent Social Effects in Mice. Neuropsychopharmacology. 2014 Apr;39(5):1102-14. doi: 10.1038/npp.2013.310.