Venue : Centre Broca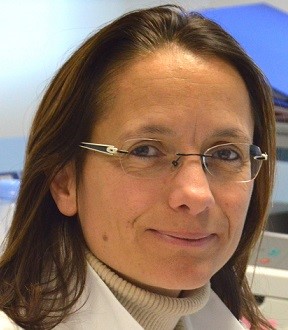 ---
Hélène Marie
Institut de Pharmacologie Moléculaire et Cellulaire, Valbonne, France
https://www.ipmc.cnrs.fr
Invited by Olivier Nicole (IINS)
Title
APP fragments are master regulators of NMDA Receptor function
Abstract
NMDA receptors (NMDARs) are essential actors in a large array of brain functions. Historically, they are described as ionotropic receptors, but there is also compelling evidence identifying an ion-flux independent signaling mode. Here, I will summarize our recent research providing compelling evidence that two fragments of the amyloid-b precursor protein (APP) are essential regulators of NMDAR function at excitatory synapses. I will highlight the importance of the C-terminal domain of APP in regulating the levels of the NMDAR GluN2B subunit at these synapses. I will also demonstrate that the recently identified APP fragment called AETA inhibits ionotropic signaling while promoting ion-flux independent NMDAR signaling. Beyond their well-known implication in Alzheimer's disease, we thus argue that APP and its fragments are master regulators of NMDAR function in physiological conditions with potential implications in different NMDAR-linked disorders.
Key publications
Spatiotemporal insights of APP function. Dunot J, Ribera A, Pousinha PA*, Marie H*. Curr Opin Neurobiol. 2023 Aug 3;82:102754. doi: 10.1016/j.conb.2023.102754. Co-first authors; *Co-last authors
Rajão-Saraiva J, Dunot J, Ribera A, Temido-Ferreira M, Coelho JE, König S, Moreno S, Enguita FJ, Willem M, Kins S, Marie H, Lopes LV*, Pousinha PA* (2023) Age-dependent NMDA receptor function is regulated by the amyloid precursor protein. Aging Cell, Mar;22(3):e13778 doi: 10.1111/acel.13778.    * Co-last
Mensch M, Dunot J, Yishan SM, Harris SS, Blistein A, Avdiu A, Pousinha PA, Giudici C, Busche MA, Jedlicka P, Willem M and Marie H. (2021) Aη-α and Aη-β peptides impair LTP ex vivo within the low nanomolar range and impact neuronal activity in vivo. Alzheimer's Research & Therapy 13:125. doi: 10.1186/s13195-021-00860-1  PMID: 34238366
Vitale P, Salgueiro-Pereira AR, Lupascu CA, Willem M, Migliore R, Migliore M* and Marie H*. (2021) Analysis of age-dependent alterations in excitability properties of CA1 pyramidal neurons in an APPPS1 model of Alzheimer's disease. Front. Aging Neurosci. 13:668948. * co-last authors  PMID: 34177555 doi: 10.3389/fnagi.2021.668948.
Kartalou GI, Salgueiro-Pereira AR, Endres T, Lesnikova A, Casarotto P, Pousinha P, Delanoe K, Edelmann E, Castrén E, Gottmann K*, Marie H*, Lessmann V*. (2020) Anti-Inflammatory Treatment with FTY720 Starting after Onset of Symptoms Reverses Synaptic Deficits in an AD Mouse Model. Int J Mol Sci. 2020 Nov 25;21(23):8957. * co-last authors  PMID: 33255764  doi: 10.3390/ijms21238957
Pousinha PA, Mouska X, Bianchi D, Temido-Ferreira M, Rajão-Saraiva J, Gomes R, Fernandez SP, Salgueiro-Pereira AR, Gandin C, Raymond EF, Barik J, Goutagny R, Bethus I, Lopes LV, Migliore M and Marie H. (2019) The Amyloid Precursor Protein C-Terminal Domain Alters CA1 Neuron Firing, Modifying Hippocampus Oscillations and Impairing Spatial Memory Encoding. Cell Rep. 29(2):317-331.e5.  PMID: 31597094  doi: 10.1016/j.celrep.2019.08.103.
Kootar S, Frandemiche ML, Dhib G, Mouska X, Lorivel T, Poupon-Silvestre G, Hunt H, Tronche F, Bethus I, Barik J, Marie H. (2018)  Identification of an acute functional cross-talk between amyloid-β and glucocorticoid receptors at hippocampal excitatory synapses. Neurobiol Dis. 118:117-128.  PMID: 30003950. doi: 10.1016/j.nbd.2018.07.001.
Pousinha PA, Mouska X, Raymond EF, Gwizdek C, Dhib G, Poupon G, Zaragosi LE, Giudici C, Bethus I, Pacary E, Willem M, Marie H. (2017) Physiological and pathophysiological control of synaptic GluN2B−NMDA receptors by the C−terminal domain of amyloid precursor protein. Elife. Jul 6;6. pii: e25659. doi: 10.7554/eLife.25659.   PMID: 28682239
Willem M, Tahirovic S, Busche MA, Ovsepian SV, Chafai M, Kootar S, Hornburg D, Evans LDB, Moore S, Daria A, Hampel H, Müller V, Giudici C, Nuscher B, Wenninger-Weinzierl A, Kremmer E, Heneka MT, Thal DR, Giedraitis V, Lannfelt L, Müller U, Livesey FJ, Meissner F, Herms J, Konnerth A, Marie H, Haass C. (2015) h-Secretase processing of APP inhibits neuronal activity in the hippocampus. Nature, 526(7573):443-7.  PMID: 26322584 doi: 10.1038/nature14864.