Mecanismes neurophysiologiques de la prise de drogue et de l'addiction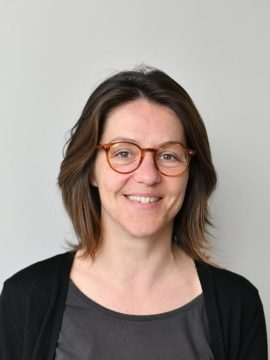 Karine Guillem est actuellement chercheuse dans l'équipe de Serge Ahmed.
Parcours scientifique
 J'ai débuté ma carrière scientifique dans le laboratoire de « Neuropsychobiologie des désadaptations » dirigé par le Dr. Luis Stinus, partie intégrante de l'UMR 5541 (Dir. B. Bloch). De 2002 à 2005, j'ai effectué mon doctorat sous la direction du Dr. Stinus. Mes travaux s'intéressaient à l'étude d'un co-facteur dopaminergique − des inhibiteurs des monoamines oxydases (IMAO) − présents dans la fumée de tabac sur les propriétés addictives de la nicotine à travers l'utilisation de divers modèles animaux caractéristiques de différentes facettes de l'addiction (auto-administration intraveineuse et sevrage).
En 2006, j'ai rejoins l'équipe du Dr. Laura L. Peoples (Department of Psychiatry, TRL, Philadelphie, USA) pour effectuer mon premier stage post-doctoral. Ce stage m'a permis d'acquérir la technique des enregistrements électrophysiologiques multi-unitaires in vivo chez l'animal se comportant. J'ai pu ainsi coupler ces enregistrements électrophysiologiques au comportement d'auto-administration intraveineuse de drogue (nicotine et cocaïne) afin d'étudier les processus neurophysiologiques sous-tendant la prise de drogue. Par la suite, et pour développer une approche plus causale, j'ai rejoins le laboratoire du Pr. Huibert D. Mansvelder (CNCR, Dept. of Integrative Neurophysiology, Amsterdam, Pays-Bas) afin d'élargir mes compétences en neurobiologie en utilisant, en particulier, des injections intracérébrales de vecteurs viraux (ré-expression de sous-unités nicotiniques ou injection d'opsines photosensibles).
En octobre 2011, j'ai intégré l'équipe du Dr. Serge H. Ahmed au sein de l'Institut des Maladies Neurodégénératives (IMN, CNRS UMR 5293, Dir. Erwan Bézard). Depuis mon recrutement, mes activités de recherche ont principalement porté sur le rôle du cortex orbitofrontal (OFC) dans les processus de choix entre une drogue (cocaïne ou héroïne) et une récompense naturelle (boisson sucrée). Pour cela, j'utilise une approche transversale combinant des enregistrements électrophysiologiques et des stimulations optiques (optogénétique) in vivo à une procédure de choix chez le rat de laboratoire. Le but de ces travaux est d'identifier au sein de l'OFC des dysfonctionnements neuronaux à l'origine de la préférence anormale pour la drogue chez les sujets vulnérables. En parallèle, je développe également un nouveau projet de recherche ayant pour ambition de découvrir quelles sont les dysfonctions de l'attention et du cortex préfrontal (PFC) responsables du développement de l'addiction à la nicotine et de la rechute.
Publications
Guillem K & Ahmed S.H. A neuronal population code for ressemblance between drug and nondrug reward outcomes in the orbitofrontal cortex. Brain Struct Funct (2019), 224:883-890.
Guillem K & Ahmed S.H. Incubation of Accumbal Neuronal Reactivity to Cocaine Cues During Abstinence Predicts Individual Vulnerability to Relapse. Neuropsychopharmacology (2018), 43:1059-1065.
Guillem K, Brenot V, Durand A, Ahmed SH. Neuronal representation of individual heroin choices in the orbitofrontal cortex. Addict Biol (2018), 23-880-888.
Guillem K & Ahmed SH. Preference for cocaine is represented in the orbitofrontal cortex by an increased proportion of cocaine use-coding neurons. Cereb Cortex (2018), 23:819-832.
Guillem K, Ahmed SH*, Peoples LL*. Escalation of cocaine intake and incubation of cocaine seeking are correlated with dissociable neuronal processes in different accumbens subregions. Biol Psychiatry (2014), 76: 31-39.
Ahmed SH, Lenoir M, Guillem K. Neurobiology of addiction versus drug use driven by lack of choice. Curr Opin Neurobiol (2013), 23:581-587.
Jury

 Serge AHMED  – DR CNRS, UMR 5293, Bordeaux  – Président
Philippe FAURE – DR CNRS, UMR 8246, Paris – Rapporteur
Léon TREMBLAY – DR CNRS, UMR 5229, Lyon – Rapporteur
Stéphanie CAILLE-GARNIER – CR CNRS, UMR 5287, Bordeaux – Rapporteur
Marcello SOLINAS – DR CNRS, INSERM U-1084, Poitiers – Examinateur
François GEORGES – DR CNRS, UMR 5293, Bordeaux – Examinateur