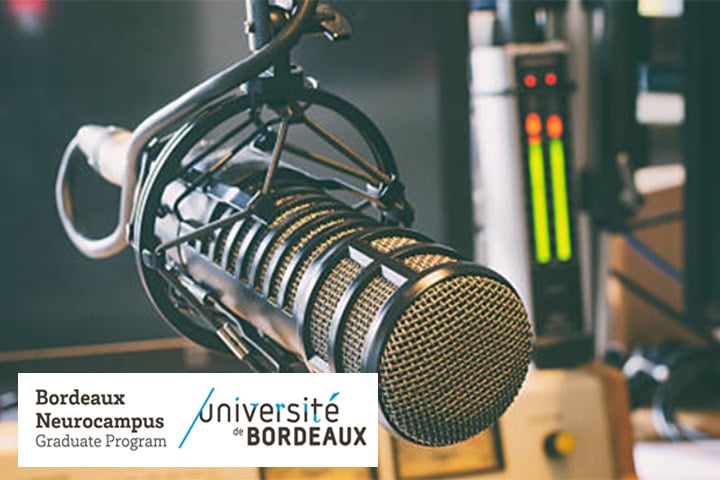 Christopher Stevens in "La clé des ondes"
The Bordeaux Neurocampus Graduate Program partners with the program "des gens qui cherchent" of the Radio la Clé des Ondes in order to enable its community of students to communicate their research work to a broad audience.
Every week, André Rosevègue broadcasts a new research topic with a double aim: to demystify research through the explanation and sharing of cutting edge scientific concepts with the general public and to also highlight the human side; the personal story and the purpose and life path of the researcher that contributed to it.
Open to all PhD students
All PhD students of the Bordeaux Neurocampus Graduate Program are invited to be interviewed following the link: https://forms.gle/sNdnr5GchR5rKc7W8. A certificate of participation will be provided which validates towards training hours for the PhD students.
Our first PhD student to be part of this event was Christopher Stevens on May 10th, 2021. the podcast is available on the website of the radio.
Christopher Stevens is part of the "Pathophysiology of declarative memory" team lead by Aline Marighetto at the Neurocentre Magendie and his work focus is on the neural and cognitive bases of confirmation bias-induced interference in declarative memory performance .
Contact
Cristina Lemos
Bordeaux Neurocampus Graduate Program
---
Source : https://neurocampus-graduateprogram.u-bordeaux.fr
Publication: 01/06/21
Last update 01/06/21