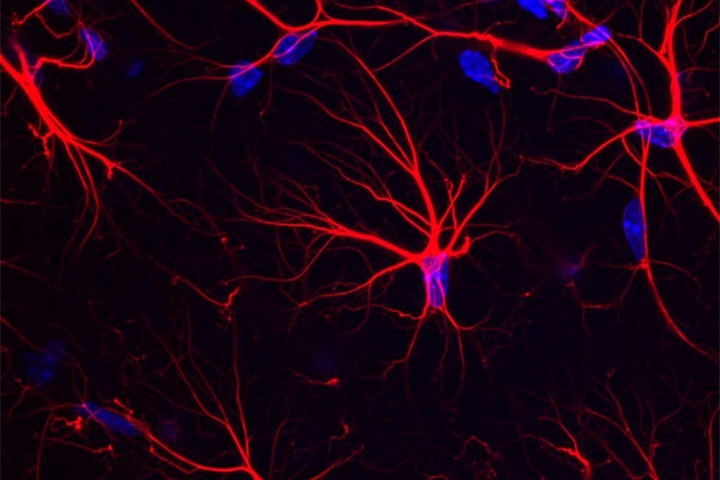 Aude Panatier in Cell Metabolism
Impairment of Glycolysis-Derived L-Serine Production in Astrocytes Contributes to Cognitive Deficits in Alzheimer's Disease. Juliette Le Douce*, Marianne Maugard*, Julien Veran*, Marco Matos*, Pierrick Jégo+, Pierre-Antoine Vigneron+, Emilie Faivre+, Xavier Toussay,Michel Vandenberghe, Yaël Balbastre, Juliette Piquet, Elvire Guiot, Nguyet Thuy Tran, Myriam Taverna, Stéphane Marinesco, Ayumi Koyanagi, Shigeki Furuya, Mylène Gaudin-Guerif, Sébastien Goutal, Aurélie Ghettas, Alain Pruvost, Alexis-Pierre Bemelmans, Marie-Claude Gaillard, Karine Cambon, Lev Stimmer, Véronique Sazdovitch, Charles Duyckaerts, Graham Knott, Anne-Sophie Hérard, Thierry Delzescaux, Philippe Hantraye, Emmanuel Brouillet, Bruno Cauli, Stéphane H.R. Oliet, Aude Panatier# et Gilles Bonvento#. Cell Metabolism, 3 March 2020.
DOI : 10.1016/j.cmet.2020.02.004
*co-first autors
+equal contribution
#These authors jointly supervised this work
---
Proper brain functioning relies on the close metabolic and synaptic interplay between neurons and astrocytes. Interestingly, the early stage of Alzheimer's disease is associated with a decrease in brain metabolism and deficits in synaptic functions that are believed to underlie cognitive decline. However, whether there is a causal link between these processes remained unknown.
The consumption of glucose by astrocytes leads to the production of various metabolites including L-serine, a precursor of D-serine, the endogenous co-agonist of synaptic NMDA receptor that is essential for long-term synaptic plasticity and memory. Thanks to a collaboration with the group of Gilles Bonvento (CNRS-CEA-University of Paris-Saclay) Aude Panatier and Stéphane Oliet (Neurocentre Magendie) show in a mouse model of Alzheimer's disease that a decrease in glucose consumption by astrocytes leads to a reduction in the production of L-serine and, consequently, in D-serine supply. As a result, synaptic NMDA receptors activity is decreased, thereby impairing neuronal plasticity and memory. Importantly, such early cognitive deficits can be fully rescued by L-serine food supplementation.
The identification of the major role played by a glucose metabolite, L-serine, at an early stage of Alzheimer's disease and the success of a nutritional supplementation opens the way to new therapeutic strategies in this neurodegenerative pathology.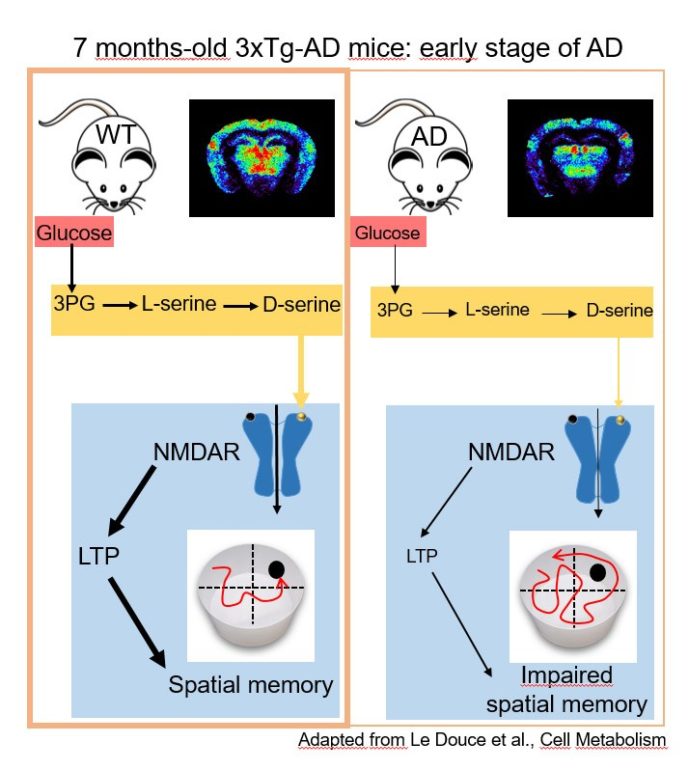 ---
See the comment and press release in french
Publication: 03/03/20
Last update 31/03/20