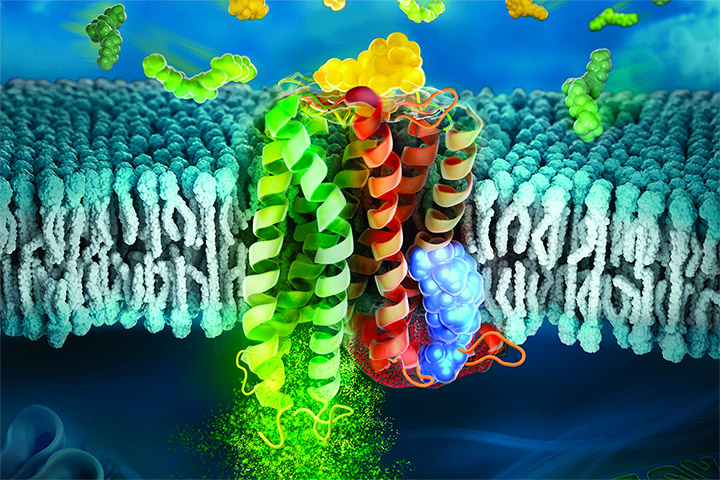 A new pharmacological class for the treatment of cannabis addiction
---
Aelis Farma ,a clinical-stage biopharmaceutical company focused on developing treatments for brain diseases, today announced publication of a series of studies describing a new pharmacological class, cannabinoid receptor 1 signaling-specific inhibitors (CB1-SSi), and its first drug candidate, AEF0117, for the treatment of cannabis use disorder (CUD).
The report, "Signaling-specific inhibition of the CB1 receptor for cannabis use disorder: phase 1 and phase 2a randomized trials," was published online by the journal Nature Medicine.
AEF0117 is the first compound that selectively inhibits the CB1 receptor signaling pathway responsible for the addictive effects of cannabis, without interfering with the receptor's fundamental physiological and behavioral functions. This breakthrough approach differs from previous CB1 receptor antagonists that, due to their broad blockade of all CB1 receptor activity, caused significant adverse effects preventing their clinical use.
AEF0117, discovered and developed by Aelis Farma, is the first of the new pharmacologic class, CB1-SSi, which is based on a natural brain mechanism that combats CB1 receptor hyperactivity. This mechanism was discovered by the research group of Aelis Farma Chief Executive Officer Pier Vincenzo Piazza, MD, PhD, when he was the director of the Neurocentre Magendie of the French National Institute of Health and Medical Research (INSERM) in Bordeaux1. This unique mechanism of action enables CB1-SSi to inhibit only the cellular signals involved in CUD – without disrupting the receptor's physiological activity. The CB1-SSi class and AEF0117 represent a breakthrough in CB1 pharmacology.
"This landmark article culminates more than a decade of research, from discovery of this natural brain mechanism to our proof-of-concept clinical trial," said Dr. Piazza. "We are delighted to contribute to the field of neuropharmacology with a class of drugs never tested in humans before. Now, we at Aelis are sponsoring a large, placebo-controlled phase 2b study in collaboration with Columbia University Irving Medical Center, enrolling 330 participants with CUD to evaluate three dose levels of AEF0117 in treating cannabis addiction. Results should be available by mid-2024."
Because of its unique mechanism of action, AEF0117 significantly reduced phase 2a study participants' self-reported ratings of the positive subjective effects of cannabis, the primary outcome measure, by a mean of 38% (p<0.04), while also reducing cannabis use as measured by self-administration (p<0.05), the key secondary endpoint. AEF0117 produced no treatment-related serious adverse events or treatment-emergent adverse events distinct from placebo. These reductions in cannabis effects occurred without precipitating cannabis withdrawal, even for volunteers who smoked several grams of cannabis per day.
"No other medication has been shown to safely reduce the direct effects of smoked cannabis in daily cannabis smokers," said Margaret (Meg) Haney, PhD, supervisor of the phase 1 studies and principal investigator of the 2a proof-of-concept study, and Professor of Neurobiology in the Department of Psychiatry at Columbia University Irving Medical Center, where she is the Director of the Cannabis Research Laboratory and Co-Director of the Substance Use Research Center. "These novel findings clearly suggest that AEF0117 may be an effective approach for patients seeking treatment for CUD."
Aelis Farma thanks the volunteer study participants, Dr. Haney and her team at Columbia, the National Institute of Drug Abuse, and all the participating study centers and staff for their assistance.
Download the full press release
Download the full Nature Medicine article
References
1 Vallée M, Vitiello S, Bellocchio L, et al. Pregnenolone Can Protect the Brain from Cannabis Intoxication. Science 2014;343(6166):94-98. DOI: doi:10.1126/science.1243985.
Publication: 14/06/23
Last update 14/06/23