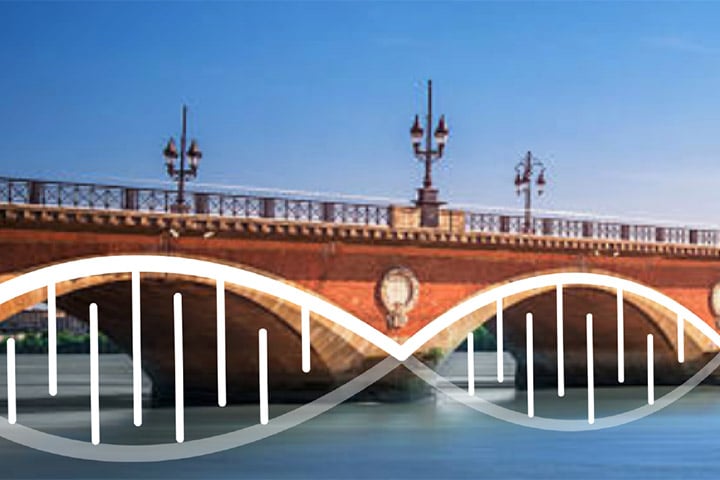 1st CRISPR and translational medicine meeting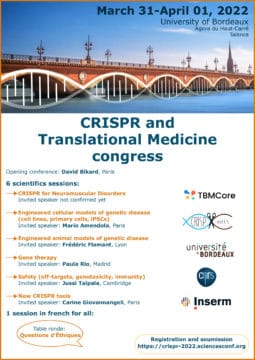 The 1st CRISPR and translational medicine meeting will be held on march 31st and April 1st in Bordeaux.
Registrations and abstract submissions are open.
CRISPR is one of the most powerful discoveries of the last decade and the scientific program of the congress is organized in six sessions dealing with major aspects of current developments:
1 -CRISPR for Neuromuscular Disorders 
2 – Engineered cellular models of genetic disease (cell lines, primary cells, iPSCs)
3 – Engineered animal models of genetic disease
4 – Gene therapy
5 – Safety (off-targets, genotoxicity, immunity)
6 – New CRISPR tools
The CRISPR-Cas9 technology has revolutionized genome edition approaches in the last few years. It is used to model genetic diseases in both in vitro cell lines or primary cells (sessions 1 and 2) and in vivo animal models (session 3). First therapeutic trials in humans have been undertaken (session 4), further strengthening the clinical prospects of the technology. Meanwhile, the intensive use of CRISPR tool in research labs has revealed off-target effects with unwanted genetic modifications (session 5), and many current researches are focused on the improvement of DNA targeting and cutting action of CRISPR tools in order to overcome these drawbacks and develop new applications (session 6).
A Round Table (in french), presenting the CRISPR technology with societal and ethical aspects, will be scheduled on Friday evening.
Details and registration
https://crispr-2022.sciencesconf.org
Practical guide to registration and abstract submission
Publication: 01/02/22
Last update 14/03/22