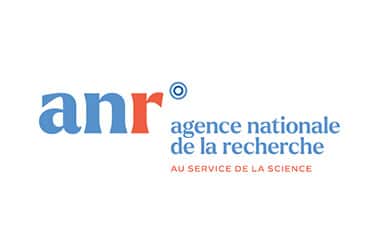 Résultats des ANR – 2022
Félicitations aux lauréats !
Il manque votre projet ou des précisions ? Merci de nous le signaler ().
CE10 – Industrie et usine du futur: Homme, organisation, technologies
Catégorie PRC (Projet de Recherche Collaborative) :

– SIRENE – Système Innovant de REstauration du Niveau d'Eveil en conduite de navire de commerce.
Nicolat BESSOT (Inserm, Univ Caen) / Jacques Taillard (Sanpsy), Dominique Follet (ENSM, Le Havre)
CE13 – Biologie cellulaire, biologie du développement et de l'évolution
Catégorie PRC :

– MODCOM : Modulation de la communication trans- synaptique à la jonction neuromusculaire: des voies de signalisation aux approches thérapeutiques
Laure Strochlic (Institut de Myologie, Paris) / Nathalie Sans (Neurocentre Magendie), Jordi Molgo (CEA SIMOS, Paris), Rozen LE PANSE (CRM, Paris)
– NanoTopoAdhesion : Detection of nanoscale topographies by macrophages
Porteur: Renaud POINCLOUX (IPBS, Toulouse)
Collaborateurs : Olivier Rossier (IINS, Bordeaux) / Patricia BASSEREAU (Institut Curie, Paris), Christophe THIBAULT (LAAS, Toulouse)
CE14 – Physiologie et physiopathologie
Catégorie PRC :
– LUMEN : Deciphering emphysema pathophysiology through an engineered 4D- lung organoid
Maeva Zysman (CRCTB, Bordeaux) / Alvéole (Paris), Vincent Studer (IINS)
– NeuroInflamIR – L'altération de l'homéostasie du glucose implique une nouvelle voie inflammatoire hypothalamique Mohammed Taouis (Institut des Neurosciences Paris-Saclay, Paris) / Daniela Cota (Magendie), Agnes Nadjar, (Magendie), Blandine Gatta-Cherifi (Magendie – CHU Bordeaux), Ariane Sharif (Lille Neuroscience & Cognition, Lille)
– NewMic : rôle du dysfonctionnement de la microglie dans les troubles neuro développementaux
Sophie Layé et Jean-Christophe Delpech, (NutriNeuro) / Juliette VanSteenwinckel (NeuroDiderot, Paris)
CE16 – Neurosciences moléculaires et cellulaires – Neurobiologie du développement
Catégorie JCJC (Jeunes Chercheuses et Jeunes Chercheurs) :
– AMY-FEB : Rôle des interneurones en panier et axo-axoniques de l'amygdale dans le contrôle de la peur et de l'anxiété
Thomas Bienvenu (Magendie)
– ASAPS : Agrégation de l'alpha-synucléine dans la pathogenèse des synucléinopathies : de la structure aux maladies humaines
Florent Laferrière (IMN) / François Ichas (IMN), Francesca De Giorgi  (IMN)
Catégorie PRC :

– AdAstro : Le dialogue neurone-astrocyte via les neuroligines astrocytaires : le chaînon manquant ?
Mathieu Letellier (IINS) / Aude Panatier (Magendie), Etienne Herzog (IINS)
– AMPAR_SubPopTraffic – Propriétés d'organisation et de traffic des sous populations de récepteurs AMPA
Daniel Choquet (IINS) / Jonathan Elegheert (IINS)
– GRINTRACK – Rôle de l'organisation à l'échelle nanométrique des récepteurs NMDA dans le développement normal du cerveau et les troubles GRIN.
Olivier Nicole (IINS) / Emilie Pacary (Magendie)
– MOTOC – Integration multimodale et plasticité des motoneurones extraoculaires
François Lambert (INCIA)
– Move-On – Shedding light on brainstem circuits in normal and pathological movement.
Grégory Barrière (INCIA) / Nicolas Mallet (IMN)
– PREGNENOID – Étude des mécanismes cellulaires et moléculaires qui constituent la boucle de régulation PREG-CB1R dans des conditions physiologiques et pathologiques
Monique Vallée (Magendie) / Luigi Bellocchio (Magendie)
CE28 – Cognition, comportements, langage
Catégorie PRC :

IDA : Différences inter-individuelles en audition
Daniel Pressnitzer (Laboratoire des Systèmes Perceptifs, ENS, Paris) / Mark Wexler (INCC, Paris), Catherine Semal et Laurent Demany (INCIA).
CE37 – Neurosciences Intégratives et Cognitives
Catégorie JCJC :
– PATHADELCOCO : Rôle du circuit neuronal pallido-thalamique dans le traitement des conséquences négatives différées de l'addiction à la cocaïne.
Michel Engeln (INCIA)
Catégorie PRC :

– CEA :  Electrophysiologie des circuits de l'anxiété
Cyril Herry (Magendie)  / Anna Beyeler (Magendie), Thomas Bienvenu (Magendie), Thomas Tourdias (Magendie)
– EXINmemory : Etude du rôle des synapses excitatrices sur Interneurones dans le processus de mémoire
Yann Humeau (IINS) / Daniel Choquet (IINS), Cyril Herry (Magendie)
– PPNet : Analyse du réseau de la nociception et de la douleur dans la maladie de Parkinson
Michel BARROT (INCI, Strasbourg) / Abdelhamid Benazzouz (IMN), Véronique Coizet (GIN, Grenoble)
– THALACOR : Contrôle thalamocortical de l'action volontaire
Mathieu WOLFF (INCIA) / Frédéric Gambino (IINS) et Lisa Roux (IINS)
CE42 –

Capteurs, i

mageurs et instrumentation
Catégorie PRC :

– DEEP-HEPATOSCREEN – Plateforme de criblage haut débit pour l'imagerie quantitative assitée par apprentissage profond de modèles de cultures cellulaires 3D d'hépatotoxicité
Jean-Baptiste Sibarita (IINS) / M. Nikolski (IBGC, Bordeaux); Frédéric Saltel (BaRITOn, Bordeaux)
CE45 –

Interfaces: mathématiques, sciences du numérique

–

biologie, santé
Catégorie PRC :
– CROSS-TRACTS – Revealing the brain's white matter crossing fibers' topology: toward a new generation of tractography algorithms integrating the ground truth neuroanatomy.
Laurent Petit (IMN) / Sylvain Miraux (CRMSB, Bordeaux), Andreas Frick (Magendie)
Publication: 18/07/22
Last update 28/07/22