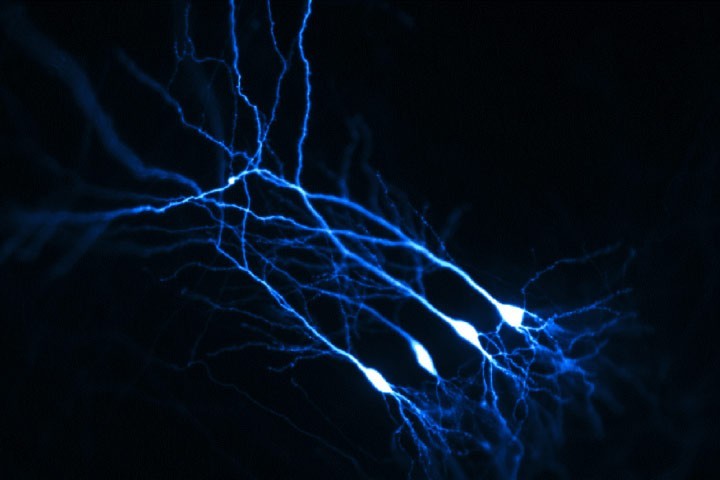 Mathieu Letellier and Olivier Thoumine in eLife
Controlling synapse differentiation with light
Adhesion proteins are emerging as major synapse organizing complexes, not only by providing a physical transmembrane linkage between pre- and post-synaptic compartments, but also by inducing signalling events that regulate synapse maturation. The heterophilic neurexin-neuroligin partnership is probably the most studied of such trans-synaptic complexes, both for its fundamental role in synapse organization and because genetic mutations in neurexins and neuroligins have been associated with Autism Spectrum Disorders in humans.
A few years ago, together with Gregory Giannone and Matthieu Sainlos in the group of Daniel Choquet, we identified a phosphorylation mechanism associated with a unique tyrosine residue (Y782) located in the intracellular domain of neuroligin-1 (Giannone et al. Cell Reports 2013). By expressing two neuroligin-1 point mutants preventing or phenocopying the phosphorylation in primary hippocampal neurons, we showed that the binding of neurexin-1β to neuroligin-1 promoted the differential assembly of excitatory versus inhibitory synaptic scaffolds. We proposed a mechanism by which neuroligin-1 tyrosine phosphorylation excludes the binding to the inhibitory scaffold gephyrin, and instead promotes the recruitment of PDZ domain containing proteins such as PSD-95.
When Mathieu Letellier joined the group at that time, we decided to explore further the functional role of neuroligin-1 tyrosine phosphorylation in synaptic differentiation and plasticity by expressing the neuroligin-1 point mutants in CA1 pyramidal neurons from organotypic hippocampal slice using single-cell electroporation (Figure 1). Our electrophysiological experiments and morphological analysis supported a model in which neuroligin-1 tyrosine phosphorylation, by favoring the assembly of an excitatory scaffold, selectively promotes the recruitment of AMPA receptors and the formation of dendritic spines during both the assembly and potentiation of glutamatergic synapses (Letellier et al. Nature Communications 2018). Furthermore, experiments performed by two post-docs in the team (Katalin Czöndör and Zsofia Sziber) showed that the tyrosine kinase receptors FGFR1 and Trks phosphorylate neuroligin-1 and regulate its ability to recruit AMPA receptors at newly formed glutamatergic synapses.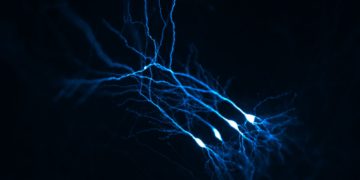 Meanwhile, we came across a paper from the group of Harald Janovjak (IST, Austria) describing a light-gated version of the FGF receptor 1, called optoFGFR1. This prompted us to use this photoactivatable kinase to phosphorylate endogenous neuroligin-1 in neurons, thus bypassing the expression of recombinant neuroligin-1. To activate the optoFGFR1 electroporated in CA1 neurons, we used light-emitting diode (LED) arrays that were built by Olivier Thoumine during his sabbatical stay in Ehud Isacoff's laboratory at UC Berkeley. Béatrice Tessier showed by biochemistry that the phosphorylation level of neuroligin-1 increases upon stimulation with blue light. In parallel, Mathieu Letellier found that optoFGFR1 activation increased the density of dendritic spines and the amplitude of AMPA receptor mediated currents, thereby occluding LTP (Letellier et al. eLife 2020). Importantly, those effects were not observed in CA1 neurons from neuroligin-1 knock-out mice, or when native neuroligin-1 was replaced by a non-phosphorylatable mutant, demonstrating that they are mediated by endogenous neuroligin-1. Combined with computer simulations performed with a software developed by Matthieu Lagardère, our data support a model by which neuroligin-1 tyrosine phosphorylation promotes the assembly of an excitatory post-synaptic scaffold that captures surface AMPA receptors (Figure 2).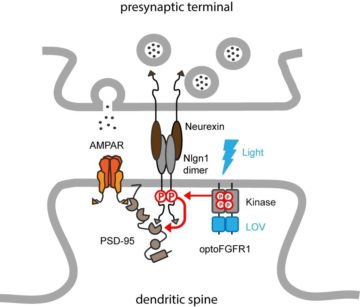 Orthogonal to the traditional paradigms used to manipulate neuroligin expression level or replace neuroligin isoforms with truncated or mutated versions, this novel optogenetic approach highlights the impact of neuroligin-1 intracellular signaling in synaptic differentiation and potentiation, while enabling an acute control of these mechanisms. This project was funded in part by ANR/FWF PRCI (SyntheSyn) and by Fondation pour la Recherche Médicale (Equipe FRM).
Our obvious next step is to look at the effects of neuroligin-1 phosphorylation in vivo. To this aim, we will inject a virus coding for the optoFGFR1 in the mouse hippocampus and record electrophysiological properties in vivo (in collaboration with François Georges, IMN), and hippocampal-dependent spatial memory (in collaboration with Lisa Roux, IINS) upon light activation. Given the strong effects seen in hippocampal cultures, we expect interesting physiological and behavioral phenotypes caused by modifications of neuroligin phosphorylation. This projet is funded by the Labex BRAIN (SynOptoGenesis).
---
Articles
Optogenetic control of excitatory post-synaptic differentiation through neuroligin-1 tyrosine phosphorylation. Letellier M, Lagardère M, Tessier B, Janovjak H, Thoumine O.
Elife. 2020 Apr 23;9. pii: e52027. doi: 10.7554/eLife.52027.
https://elifesciences.org/articles/52027
A unique intracellular tyrosine in neuroligin-1 regulates AMPA receptor recruitment during synapse differentiation and potentiation.
Letellier M, Szíber Z, Chamma I, Saphy C, Papasideri I, Tessier B, Sainlos M, Czöndör K, Thoumine O.
Nat Commun. 2018 Sep 28;9(1):3979. doi: 10.1038/s41467-018-06220-2.
https://www.nature.com/articles/s41467-018-06220-2
---
Contact info :
Publication: 04/05/20
Last update 11/05/20