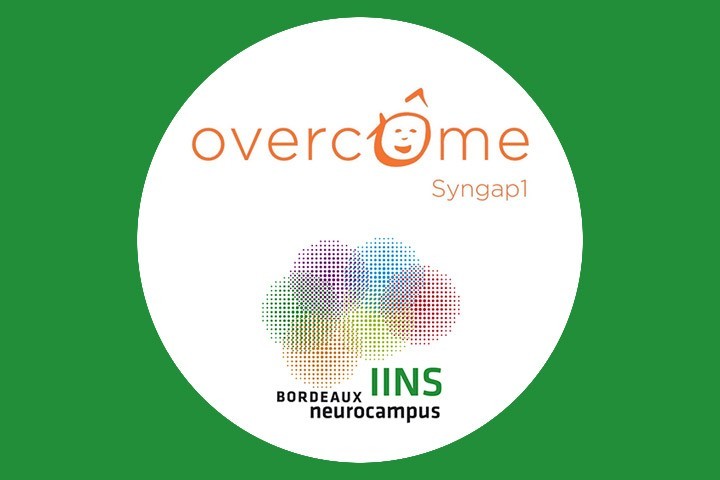 Launch of a research partnership on the SynGAP1 protein
Launch of a research partnership on the SynGAP1 protein between the Overcôme SynGAP1 Association and the Interdisciplinary Institute of Neurosciences (IINS) in Bordeaux
A research and support partnership will be formalized on October 23, 2020, between the Overcôme SynGAP1 Association and the Interdisciplinary Institute of Neurosciences. Created in 2016 in Canada, this Association aims at raising awareness on the SYNGAP1 genetic disorder, helping families affected by the disease and raising funds to find a cure. Overcôme SynGAP1 contributes actively to the work of Professor Michaud in Canada, one of the pioneers in the study of this pathology.
The Association spread to France in 2018 where it also brings together families of French-speaking patients from neighboring countries. Today, it wants to support the research of Doctor Choquet, wishing to improve knowledge of disorders linked to the mutation and to develop research in France.
The French neuroscience research laboratory IINS is particularly renowned for its work on synaptic transmission. For several years, it has been developing studies on understanding the role of synapse proteins involved in so-called neurodevelopmental diseases such as the SynGAP1 protein or a few models of autism.
As part of this partnership, the studies will be carried out within the team of Dr. Daniel Choquet in collaboration with Dr. Eric Hosy.
This first French partnership between Overcôme SynGAP and IINS is possible thanks to financing from private funds. The project will allow further research on a rare genetic disorder caused by a mutation in the SYNGAP1 gene. Its objectives are to broaden research perspectives and to consider potential future therapies.
We invite you to an online conference to celebrate this partnership and learn more about research on Friday, October 23 at 2 p.m. (1 hour), in the presence of Dr. Choquet and his team!
This talk will be broadcast on the Overcome SynGAP1 Facebook page.
 Cf. Press release in French here
Contacts :
Chercheurs IINS :
Daniel Choquet, and Eric Hosy
Association Overcôme SynGAP1 :
Solenne Lafeytaud, Présidente Overcôme SynGAP1
Domitille Marchal Lemoine, Vice-Présidente Overcôme SynGAP1, en charge de la communication
Aymeric Marchal, Président Overcôme SynGAP1 France
Publication: 21/10/20
Last update 20/10/20