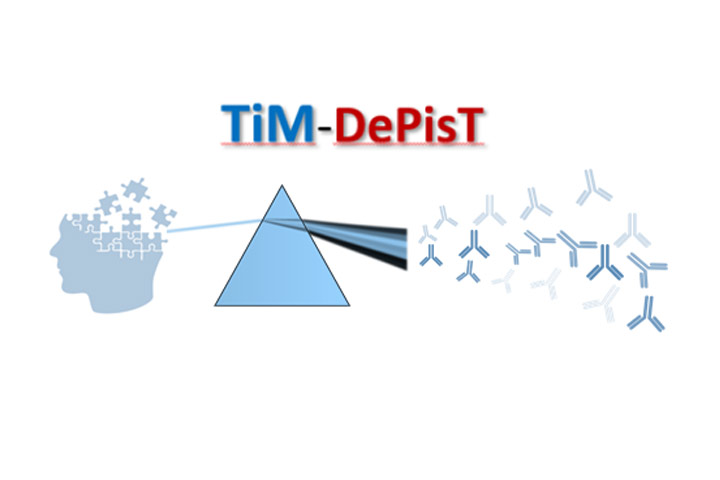 Journée inaugurale du PHRC TiM-DepisT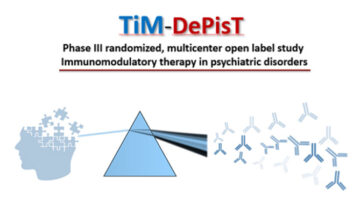 « Les affections Psychiatriques vues sous le prisme de l'auto-immunité »
Mercredi 27 septembre, 10h00-17h30
Lieu : CGFB (sur inscription par email :

Visioconférence : accès libre
https://u-bordeaux-fr.zoom.us/j/81580765757
ID de réunion : 815 8076 5757
A propos
Le rôle du système immunitaire en général, et en particulier de l'auto-immunité, est de plus en plus considéré par le monde médical et scientifique comme un changement de paradigme à prendre en compte dans l'étiologie des maladies psychiatriques. Si l'auto-immunité ne représente qu'une étiologie parmi d'autres, elle permet de mieux comprendre certains dysfonctionnements moléculaires jusqu'alors insoupçonnés. Alors que les maladies psychiatriques constituent un problème de santé prioritaire dans le monde entier, la recherche fondamentale a récemment révolutionné la compréhension du lien entre les anticorps dirigés contre le cerveau et leurs cibles moléculaires à l'origine des symptômes neuropsychiatriques. La découverte de ces mécanismes constitue un défi majeur pour le développement de nouvelles stratégies diagnostiques et thérapeutiques. La Direction Générale de l'Offre de Soin (DGOS) a ainsi fait confiance au « consortium de forces » des chercheurs et cliniciens francais pour démarrer dès fin 2023, un projet de recherche clinique national d'envergure (PHRC-N), visant à dépister et traiter les troubles psychiatriques en lien avec l'auto-immunité.
English version
"Psychiatric disorders through the prism of autoimmunity."
The role of the immune system is increasingly seen by the medical and scientific world as a new paradigm in the etiology of psychiatric diseases. Although, autoimmunity is only one etiology among others, it provides a better understanding of certain molecular dysfunctions that were previously unsuspected. Psychiatric diseases are a priority health problem worldwide, and basic research has recently revolutionized the understanding of the link between antibodies their molecular neuronal targets at the origin of neuropsychiatric symptoms. The discovery of pathogenic mechanisms is a major challenge for the development of new diagnostic and treatment strategies. The French "Direction Générale de l'Offre de Soin" decided to fund a "consortium of forces" of French researchers and clinicians to lead, from November 2023, a major national clinical research project (PHRC-N), aimed at detecting and treating psychiatric disorders linked to autoimmunity.
Programme
Fondation scientifique et clinique du PHRC
10h00 – 10h15
Frédéric VILLEGA (Bordeaux CHU), Sébastien GARD (Président de la CME, Centre Charles Perrens, Bordeaux)
TiM-DepisT en quelques mots
10h15 – 10h45
Laurent GROC (CNRS)
Psychose autoimmune : de la molécule vers le patient
10h45-11h30
Belinda LENNOX (Oxford University, UK)
Lessons learned from the SINAPPS2 clinical trial
11h30-12h00
Marion LEBOYER (CHU Créteil)
Psychiatrie de précision: PEPR PROPSY
12h30-14h00 Buffet
Structuration et fonctionnement du PHRC
14h00 – 15h30
Anouck AMESTOY, David MISDRAHi, (Centre Charles Perrens, Bordeaux),
Frédéric VILLEGA (Bordeaux CHU)
Table ronde sur les critères d'inclusion PHRC
Présentation Dépliant informatif et teaser Vidéo
15h30-16h30
Guillaume SIMON (ARC Coordonnateur)
Parcours patients, e-CRF
16h30-17h00
Delphine BOUCHET (CNRS) & Cécile BORDES (Bordeaux CHU)
Diagnostic biologique des autoanticorps & circuit des échantillons patients
17h00-17h15
Conclusion et calendrier prévisionnel
Contact
Publication: 12/09/23
Last update 12/09/23