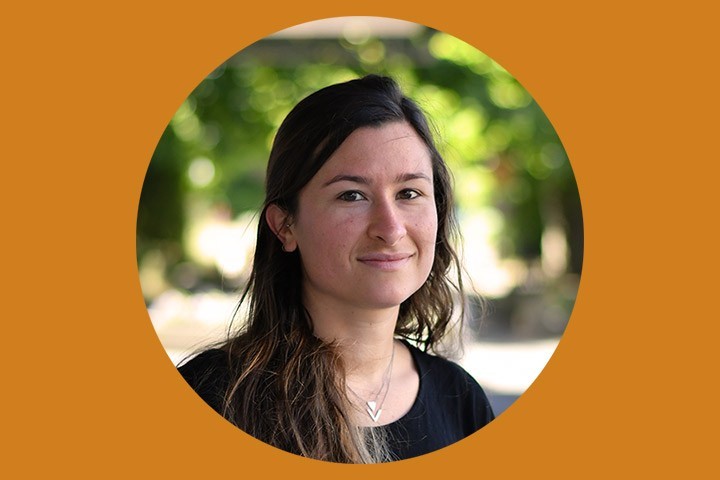 Interview: Lucile Dupuy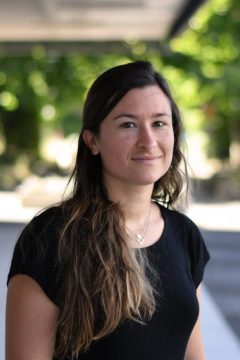 Lucile Dupuy has been a research engineer in Human-Computer Interaction at SANPSY since the end of 2018. She has notably participated in the creation of KANOPEE, an application offering screening and, if necessary, follow-up on sleep and addiction problems, in the context of COVID-19 crisis, via a virtual companion. Let's meet her.
Bordeaux Neurocampus: What are your missions in your team?
Lucile Dupuy: I am a research engineer in the GENPPHASS team (Study Group on Neurophysiology, Pharmacology, Sleep and Drowsiness) headed by Pierre Philip. This team is dedicated to the study of sleep and neuropsychiatric disorders with an emphasis on new technologies, particularly e-health. We also study human behaviours, biological and psychological markers, pathophysiological mechanisms and related risk factors that impact the daily lives of healthy subjects and patients.
There are four of us in the digital team, so our job is to develop computer tools for health. The team has been working on conversational agents for 5 years. Before I arrived, the team had already developed some agents that perform diagnoses on depression, addiction and drowsiness, so they were what we call Virtual Medical Agents. When I joined the team, my role was to transform these virtual medical agents into virtual companions who would accompany patients with chronic diseases outside of the hospital (on their smartphones), in order to measure their health status more regularly and encourage them to continue their treatment. We already had the tools, so it was a question of changing their role.
To do this, I rely on what we know about each pathology and knowledge of Human-Computer interaction, to adapt the technologies to the user concerned, and then to have them tested throughout the design process so that they are accepted. For example, we must make sure that the conversational agent does not make bad decisions, that he gives the right advice adapted to the situation… like with a real doctor, or a friend! Moreover, the user must have enough confidence not to lie to the tool, inciting trust is one of the areas of reflection when designing these tools.
How did you come to work in this field?
I first did a Bachelor's degree in mathematics applied to social sciences, with an option in cognitive sciences, which led me to choose this speciality for my Master's degree. Then I did my thesis at Inria: I was working on the design and validation of a technology to help older adults stay at home independently and feel less isolated. After that, while I had done all my studies in Bordeaux, I did a post-doctorate year at the University of Illinois.
The latest news from your team is the KANOPEE application. Can you tell us more about it?
The idea to develop the application came at the beginning of the confinement, in March. Indeed, during this period, it was important for addictologists and sleep specialists to make large-scale screening tools available to the population, because initial studies showed that with the confinement and stress of this particular context, some people would start having sleep issues, smoking or consuming more alcohol. It was important to be able to identify people with serious disorders early, so that they could be counselled or referred to a health professional. So it seemed easy, since, as I said, the medical agents already existed, but in the end, as we thought about it, other ideas came up: a sleep diary, so that patients could record their sleep schedule, a consumption diary, to note the cigarettes and glasses consumed, a diversification of the advice given by the virtual companion, etc.
We had to be quick to think, to develop the tool, to do the first tests… And then it takes a bit of time for the app to be validated by the download platforms, because there were a lot of restrictions with COVID-19 on health-related applications: you have to check that they come from the medical community. Ours was validated after two weeks. On April 22, KANOPEE was finally available on Google Play Store (it arrived a little later on Apple Store), but it was still an incomplete version. Because of the particular situation and the need it represented, we chose to release it even if it deserved some small optimizations in terms of functionalities: we made updates, added a maintenance and the possibility to send an email to the doctor, and all this was done along the way while it was already in use. Today, mid-July, KANOPEE has been downloaded by more than 3300 users, so we are very satisfied.
Did you expect KANOPEE to receive so much media coverage?
We were confident in the usefulness of this application, so with the help of the hospital's communication staff, we contacted several media. We were therefore hoping that KANOPEE would be covered by the media, but we were not sure of its success with journalists and the general public. But every time we were in the media, there was a peak in downloads. This kind of media coverage adds a little extra pressure, but we feel even more useful!
Does being useful also mean taking part in events aimed at the general public?
Yes, it is important to make our research, or the various health professions, known, if only to encourage vocations. I had already taken part in Pint of Science (an annual event where scientists go to public places to talk about their research) in a bar.
And this year, the Dealers of Science, the association of students in Science Mediation, offered me the opportunity to speak at the Week of Scientific Culture, which takes place every year in January. My participation consisted in explaining my job in the form of "speed-dating", i.e. the public went from table to table to discuss with the researchers. We had to present an object of our work, so I came with a virtual agent on a smartphone! It was really an enriching experience!
Meeting this type of audience also means reassuring them about e-health?
Yes, it does. It's important to point out that e-health is not going to replace doctors, who will always be needed. Applications complement consultations, to replace possible emergency calls, or to send patients' data on their condition. Doctors themselves are sometimes afraid that technology will replace them. There is still a lot of communication to be done to show them that this is not the case, and that this has multiple benefits, including simplified follow-up of a larger number of patients.
Thanks to e-health, it is also possible to carry out statistical studies on several thousand individuals to advance research. For example, we can find out how many people have followed KANOPEE's advice and improved their sleep. However, we must be sure that this data is protected because everything related to health is extremely sensitive, personal. We are very vigilant on this point!
Publication: 22/07/20
Last update 29/07/20