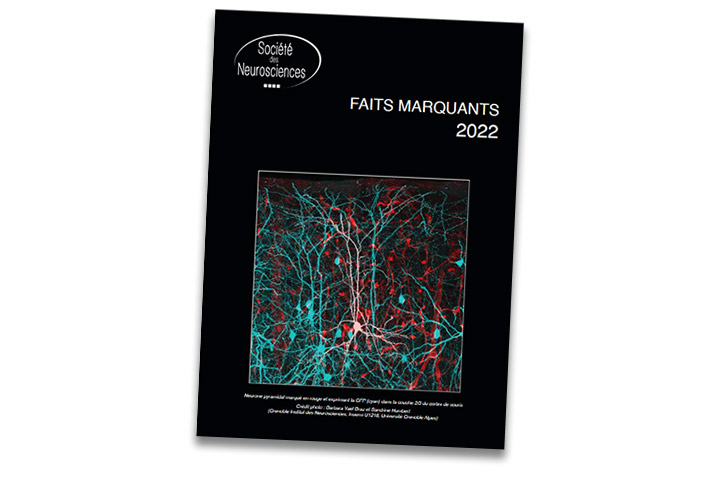 Faits marquants 2022 de la société des neurosciences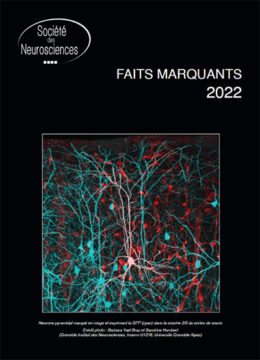 5 publications impliquant des chercheurs bordelais sont parmi les 20 highlights sélectionnés par la Société des Neurosciences pour l'année 2022.

Les synapses pivot à dopamine dans le striatum : un nouveau point névralgique pour la neuromodulation par la dopamine ?
Dopamine Hub Synapses in the striatum: a new hot spot for dopamine transmission?
Vincent Paget-Blanc, Marlene E Pfeffer, Marie Pronot, Paul Lapios, Maria-Florencia Angelo, Roman Walle, Fabrice P Cordelières, Florian Levet, Stéphane Claverol, Sabrina Lacomme, Mélina Petrel, Christelle Martin, Vincent Pitard, Véronique De Smedt Peyrusse, Thomas Biederer, David Perrais, Pierre Trifilieff, Etienne Herzog
Nature Communications
2022 Jun 3;13(1):3102.
10.1038/s41467-022-30776-9.
Unités impliquées : BIC, IINS, NutriNeuro

---
Une nouvelle boîte à outils pour explorer la dynamique des récepteurs dans le cerveau
A new toolkit to explore the dynamics of receptors in the brain
Angela Getz, Mathieu Ducros, Christel Breillat, Aurélie Lampin-Saint-Amaux, Sophie Daburon, Urielle François, Agata Nowacka, Monica Fernández-Monreal, Eric Hosy, Frédéric Lanore, Hanna Zieger, Mathieu Sainlos, Yann Humeau, Daniel Choquet
Science Advances
2022 Jul 29; 8(30):eabm5298
10.1126/sciadv.abm5298

Unités impliquées : BIC, IINS

---
Mieux comprendre les liens entre nutrition et cerveau : Comment les sucres que nous consommons
affectent le cerveau et nos émotions
Insulin modulates emotional behavior through a serotonin–dependent mechanism.
Hugo Martin, Sébastien Bullich, Maud Martinat, Mathilde Chataigner, Mathieu Di Miceli, Vincent Simon, Samantha Clark, Jasmine Butler, Mareike Schell, Simran Chopra, Francis Chaouloff, Andre Kleinridders, Daniela Cota, Philippe De Deurwaerdere, Luc Pénicaud, Sophie Layé, Bruno P. Guiard, Xavier Fioramonti
Molecular Psychiatry.
2022 Oct 7.
10.1038/s41380-022-01812-3

Unités impliquées : INCIA, Neurocentre Magendie, NutriNeuro

A propos
Pour élaborer ces "faits marquants 2022", les membres du Conseil d'Administration de la Société des Neurosciences ont sélectionné quelques publications parmi les plus remarquables dans leur discipline. Les magnifiques découvertes présentées ici témoignent de la vitalité des Neurosciences françaises et de la réalité de l'avancement des connaissances dans toutes les branches des Neurosciences, grâce aux chercheurs en France. Bien d'autres articles auraient mérité d'être dans cet échantillon !
Pour la sélection 2023, tous les membres de la Société des Neurosciences sont invités à envoyer les articles qu'ils ont "écrits ou lus" avec la mention "fait marquant, pour sélection ultérieure" à : highlights@societe–neurosciences.fr
Publication: 08/02/23
Last update 16/02/23