Lieu : Centre Broca Nouvelle-Aquitaine
---
Les neurones sérotoninergiques du noyau raphé Magnus dans le contrôle de la transmission nociceptive dans la corne dorsale de la moelle épinière : une étude optogénétique dans la physiopathologie douloureuse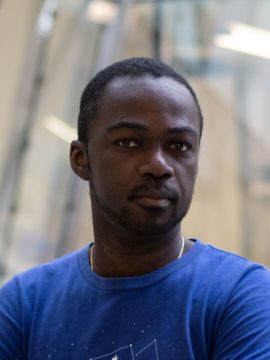 Franck Aby
IINS – Team Landry
Directeur de thèse : Pascal Fossat
---
Résumé
La douleur est une sensation et une expérience émotionnelle désagréable résultant de stimulations potentiellement nuisibles pour protéger l'intégrité du corps. Un mécanisme endogène impliquant le système PAG-RVM, module la sensation de douleur en filtrant les entrées nociceptives. Un équilibre entre des influences excitatrices et inhibitrices contrôle la transmission nociceptive et une perturbation de cet équilibre conduit à l'installation de douleurs pathologiques. Dans ce travail, nous avons utilisé une approche optogénétique pour cibler spécifiquement les neurones 5-HT du noyau du raphé Magnus (RMg) projetant sur la corne dorsale de la moelle épinière. Nous avons montré que ces neurones exerçaient une action analgésique tonique par une diminution de l'excitabilité des neurones de projection de la corne dorsale de la moelle épinière. Cet effet étant indépendant du sexe. Nous avons également observé que les neurones 5-HT sont indirectement liés aux neurones de projection par l'intermédiaire d'interneurones inhibiteurs locaux. Puis, nous avons montré que les neurones 5-HT du RMg recevaient des projections des neurones à somatostatine (SST) du vlPAG exerçant une facilitation descendante de la transmission nociceptive. Fait intéressant, nous montrons que dans un modèle de neuropathie périphérique, l'action inhibitrice des neurones à 5-HT du RMg est transformée en influence excitatrice, aussi bien chez les mâles que les femelles, en raison d'un déplacement de l'équilibre du chlore au sein de la moelle épinière. Ces résultats suggèrent que la même voie descendante peut être à la fois excitatrice et inhibitrice dans des conditions pathologiques, révélant des informations cruciales sur les changements à long terme associés à la douleur chronique.
Mots clés : Douleur, moelle épinière, réseaux neuronaux, 5-HT, SST, KCC2, WDR, excitabilité, douleur neuropathique, sexe, électrophysiologie in vivo, optogénétique, pharmacologie.
Publications:
– Windup of Nociceptive Flexion Reflex Depends on Synaptic and Intrinsic Properties of Dorsal Horn Neurons in Adult Rat.
Aby, F; Bouali-Benazzouz, R; Landry, M; Fossat, P.
Preprints 2019, 2019100006 https://doi.org/10.3390/ijms20246146
– Inflammatory-induced spinal dorsal horn neurons hyperexcitability is mediated by P2X4 receptors.
Aby F, Whitestone S, Landry M, Ulmann L, Fossat P.
Pain Rep. 2018 May 23;3(3):e660. doi: 10.1097/PR9.0000000000000660.
– Calcium signalling through L-type calcium channels: role in pathophysiology of spinal nociceptive transmission.
Roca-Lapirot O, Radwani H, Aby F, Nagy F, Landry M, Fossat P.
Br J Pharmacol. 2018 Jun;175(12):2362-2374. doi: 10.1111/bph.13747. Epub 2017 Mar 24. Review.
– Group I metabotropic glutamate receptor plasticity after peripheral inflammation alters nociceptive transmission in the dorsal of the spinal cord in adult rats.
Radwani H, Roca-Lapirot O, Aby F, Lopez-Gonzalez MJ, Benazzouz R, Errami M, Favereaux A, Landry M, Fossat P.
Mol Pain. 2017 Jan-Dec;13:1744806917737934. doi: 10.1177/1744806917737934.
En révision
Causal link between developmental n-3 PUFA deficiency and motivation deficits.
Ducrocq, F and Walle, R and Contini, A and Oummadi, A and Caraballo, B and Van der Veldt, S and Boyer, M and Aby, F and Tolentino-Cortez, T and Helbling, JC and Martine, L and Grégoire, S and Cabaret, S and Vancassel, S and Layé, S and Kang, JX and Fioramonti, X and Berdeaux, O and Barreda-Gómez, G and Masson, E and Ferreira, G and Ma, D W. L. and Bosch-Bouju, C and De Smedt-Peyrusse, V and Trifilieff, P.
En revision pour Cell Metabolism, DOI: 10.2139/ssrn.3382436
Jury
Mme Agnès Nadjar – Professeur – Université de Bordeaux – NutriNeuro – Présidente
Mme Sophie Pezet – Maître de Conférence – ESPCI Paris – Rapportrice
Mr Pierrick Poisbeau – Professeur – Université de Strasbourg – INCI – Rapporteur
Mme Antri Myriam – Maître de Conférence – Neuro-Dol Clermont-Ferrand – Examinatrice
Mr Cyril Herry – Directeur de Recherche – INSERM – Neurocentre Magendie Bordeaux – Membre invité