Venue : Auditorium du Centre Broca Nouvelle-Aquitaine
Defense in french
---
Title
Conception, synthesis and formulation of original nucleolipids for the targeting of neurons of interest in Parkinson's disease.
(Conception, synthèse et formulation de nucléolipides originaux pour le ciblage de neurones d'intérêt dans le cadre de la maladie de Parkinson.)
Abstract
Due to their prevalence, high societal cost and lack of chronic treatment, the search for new treatments for neurodegenerative diseases is one of the major challenges today. Lysosomal impairment may be a common factor in neurodegeneration and the restoration of the lysosomal function is a global mechanism of action to fight against all these pathologies. Nevertheless, the blood-brain barrier (BBB) passage allowing the delivery of therapeutic agents to target neurons, remains a major challenge to validate this approach. In this context, this work consisted in designing and developing several glyconucleolipids (GNLs) nanovectors as cargo system, carrying trehalose a therapeutic agent. They were then formulated either in solid lipid nanoparticles (SLN) or encapsulated into PLGA nanoparticles (NPs), which have already demonstrated their usefulness in crossing the BBB. The ability of these nanoformulations to cross biological membranes and induce autophagy for Parkinson's disease treatment was evaluated in vitro.
Publications
Cunha, Anthony, Gaubert, Alexandra, Latxague, Laurent, Dehay, Benjamin. « PLGA-Based Nanoparticles for Neuroprotective Drug Delivery in Neurodegenerative Diseases ». Pharmaceutics, (2021), 13, 1042. https://doi.org/10.3390/pharmaceutics13071042
Cunha, A.; Prévot, G.; Mousli, Y.; Barthélémy, P.; Crauste-Manciet, S.; Dehay, B.;  Desvergnes, V. Synthesis and Intracellular Uptake of Rhodamine–Nucleolipid Conjugates into a Nanoemulsion Vehicle. ACS Omega 2020 5 (11), 5815-5823 https://doi.org/10.1021/acsomega.9b03992
Composition du jury : Audrey Esclatine, Suzanne Peyrottes, Philippe Barthélémy, Laurent Latxague, Benjamin Dehay, Alexandra Gaubert
Jury
Audrey Esclatine
Suzanne Peyrottes
Philippe Barthélémy
Philippe Liénard
Laurent Latxague
Benjamin Dehay
Alexandra Gaubert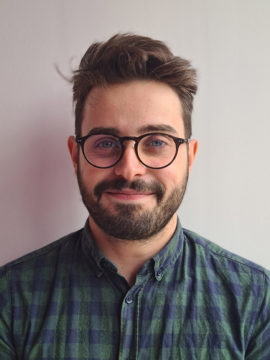 Anthony Cunha
Team Pathophysiology of parkinsonian syndromes
IMN
Thesis supervisors: Dr. Benjamin Dehay (IMN) and Dr. Laurent Latxague (ChemBioPharm)