Venue: Centre Broca Nouvelle-Aquitaine
---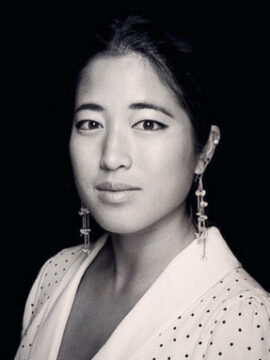 Nako Nakatsuka
Laboratory of Biosensors and Bioelectronics (LBB)
ETH Zürich
https://lbb.ethz.ch/the-group/principal-investigator/nakatsuka-nako.html
Invited by Clémentine Bosch Bouju (NutriNeuro)
Title
Aptamer-based biosensors for ex vivo neurotransmitter monitoring
Abstract
Advancing our understanding of brain (dys)function necessitates novel nanotools that can monitor chemical signaling with high spatial resolutions. While advanced methods to record electrical signaling from neurons are prevalent (e.g., microelectrode arrays, MEAs), tools to monitor chemical signaling have been limited. We have tackled this challenge by coupling the inherent selectivity of DNA-based recognition elements termed aptamers, with nanoscale pipettes with openings of ca. 10 nm. Aptamers are systematically designed oligonucleotide receptors that exhibit highly specific and selective recognition of targets. Aptamers that recognize small-molecule neurotransmitters, including serotonin and dopamine, have recently been isolated. Upon reversible target binding, aptamers undergo a rearrangement of the negatively charged backbone, and these dynamic structural changes can be transduced as measurable changes in current through the nanoscale orifice of the sensors. Nanoscale confinement of the sensor surface results in single-molecule sensitivity while simultaneously reducing biofouling for long-term recordings in complex environments, overcoming a critical bottleneck for clinical biosensors. We have demonstrated the capacity to detect physiologically relevant differences in neurotransmitter amounts released by live neurons in complex media with unprecedented sensitivity. Further, through seamless integration into patch clamp setups, our sensors have been deployed to track endogenous dopamine release in acute brain slices. Through collaboration, we are currently tracking serotonin while simultaneously recording electrical responses in acute mouse embryonic hindbrain–spinal cord preparations isolated on MEAs. Thus, we demonstrate the translatability of these sensors to other neuroscience groups and the possibility to conduct continuous recordings in localized regions with nanoscale resolution.
Key publications
Weaver S, Mohammadi MH, Nakatsuka N. Aptamer-functionalized capacitive biosensors. Biosens Bioelectron. 2023 Mar 15;224:115014. doi: 10.1016/j.bios.2022.115014. Epub 2022 Dec 23. PMID: 36628826.
Zhao C, Cheung KM, Huang IW, Yang H, Nakatsuka N, Liu W, Cao Y, Man T, Weiss PS, Monbouquette HG, Andrews AM. Implantable aptamer-field-effect transistor neuroprobes for in vivo neurotransmitter monitoring. Sci Adv. 2021 Nov 26;7(48):eabj7422. doi: 10.1126/sciadv.abj7422. Epub 2021 Nov 24. PMID: 34818033; PMCID: PMC8612678.
Nako Nakatsuka, Alix Faillétaz, Dominic Eggemann, Csaba Forró, János Vörös, and Dmitry Momotenko. Aptamer Conformational Change Enables Serotonin Biosensing with Nanopipettes. Anal. Chem. 2021, 93, 8, 4033–4041. doi  10.1021/acs.analchem.0c05038
Moraldo C, Vuille-Dit-Bille E, Shkodra B, Kloter T, Nakatsuka N. Aptamer-modified biosensors to visualize neurotransmitter flux. J Neurosci Methods. 2022 Jan 1;365:109386. doi: 10.1016/j.jneumeth.2021.109386. Epub 2021 Oct 13. PMID: 34653500.
Nakatsuka N, Heard KJ, Faillétaz A, Momotenko D, Vörös J, Gage FH, Vadodaria Sensing serotonin secreted from human serotonergic neurons using aptamer-modified nanopipettes. Mol Psychiatry. 2021 Jul;26(7):2753-2763. doi: 10.1038/s41380-021-01066-5. Epub 2021 Mar 25. PMID: 33767349.
Nakatsuka N, Yang KA, Abendroth JM, Cheung KM, Xu X, Yang H, Zhao C, Zhu B, Rim YS, Yang Y, Weiss PS, Stojanović MN, Andrews AM. Aptamer-field-effect transistors overcome Debye length limitations for small-molecule sensing. Science. 2018 Oct 19;362(6412):319-324. doi: 10.1126/science.aao6750. Epub 2018 Sep 6. PMID: 30190311; PMCID: PMC6663484.