Venue: Centre Broca
---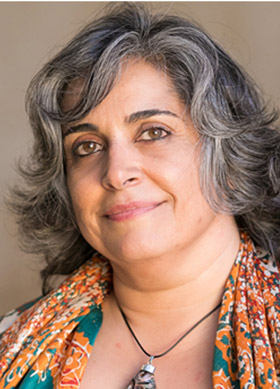 Banafshe Larijani
Director of The Centre for Therapeutic Innovation- University of Bath, United Kingdom
Invited by Marc Landry (IMN)
Title
Quantitative Immune Surveyance: a path to precision therapeutics
Abstract
I will be presenting how we have employed, in an interdisciplinary arena, quantitative molecular biology to investigate in situ molecular mechanisms in the PI 3Kinase pathway. These studies led to applying our molecular imaging methods in clinical environments. We have addressed pertinent questions regarding the exploitation of functional proteomics, as opposed to expressional proteomics in diagnostics and prognostics of various types of cancers. The implementation of this type of quantitative imaging, in deciphering mechanisms involved in signalling pathways in pain will be discussed.
Biography
Banafshé Larijani is the Director of the Centre for Therapeutics Innovation (CTI) at the University of Bath. CTI is an Internationally faced research and innovation Centre with the mission to transform innovation, arising from cross-disciplinary research to quantitative diagnostics & medicines-design, leading to precision medicine.
Her laboratory, Cell Biophysics, since 2002 in the UK and Spain has been the core of an international network that spans from the physical sciences, engineering, life sciences to translational science.
Professor Larijani's laboratory is a cutting-edge cross-disciplinary platform, that has drawn upon the physical sciences to develop novel avenues for investigation of biological processes in signalling pathways. Her laboratory has led to paving a unique path by investigating the role of phosphoinositides and their metabolites, both as second messengers and as modulators of membrane morphology, exploiting both marine and mammalian models. The outcomes of her fundamental research, involving the application of quantitative imaging (FRET-FLIM) for investigating molecular mechanisms and dynamics of phosphoinositide-modifying and phosphoinositide-dependant enzymes have resulted in their application to various clinical objectives.
While in the Basque Country (2014-2018), Spain, the cancer diagnostic/prognostic company, she co-founded and directed (until 2018), FASTBASE SOLUTIONS S.L., won European and French Awards for best "predictive cancer diagnostic test".
Selected references
Banafshé Larijani and James Miles (2022) Quantification of protein-protein interactions and activation dynamics: A new path to predictive biomarkers Biophysical Chemistry doi.org/10.1016/j.bpc.2022.106768
Lissete Sánchez-Magraner**, James Miles**, Claire L. Baker, Christopher J Applebee, Dae-Jin Lee, Somaia Elsheikh, Shaimaa Lashin, Katriona Withers, Andrew G. Watts , Richard Parry , Christine Edmead , Jose Ignacio Lopez , Raj Mehta, Antoine Italiano , Stephen G Ward, Peter J. Parker, Banafshé Larijani (2020) High PD-1/PD-L1 checkpoint interaction infers tumor selection and therapeutic sensitivity to anti-PD-1/PD-L1 treatment. Cancer Research Doi: 10.1158/0008-5472.CAN-20-1117
Gloria de las Heras-Martínez*, Véronique Calleja*, Remy Bailly, Jean Dessolin, Banafshé Larijani**, Jose Requejo-Isidro** (2019) A Complex Interplay of Anionic Phospholipid Binding Regulates 3′-Phosphoinositide-Dependent-Kinase-1 Homodimer Activation. Scientific Reports. doi: 10.1038/s41598-019-50742-8
James Miles, Christopher J. Applebee, Pierre Leboucher, Sonia Lopez-Fernandez, Dae-Jin Lee, Rosa Guarch, Stephen Ward, Peter J. Parker, Jose I. López, Banafshé Larijani (2017) Time resolved amplified FRET identifies protein kinase B activation state as a marker for poor prognosis in clear cell renal cell carcinoma. BBACLI 161. doi:10.1016/j.bbacli.2017.10.002
Gloria de las Heras-Martınez, Josu Andrieu, Banafshe Larijani and Jose Requejo-Isidro (2017) Quantifying intracellular equilibrium dissociation constants using single-channel time-resolved FRET Journal of Biophotonics DOI 10.1002/jbio.20160027
Selvaraju Veeriah, Pierre Leboucher, Julien de Naurois, Nirmal Jethwa, Emma Nye, Tamara Bunting, Richard Stone, Véronique Calleja, Gordon Stamp, Stefanie Jeffrey, Peter J Parker, Banafshé Larijani (2014) Akt/PKB activation in human primary breast carcinoma is a poor prognostic marker: determined by high throughput coincidence amplified-FRET. Cancer Research- 15;74(18):4983-95