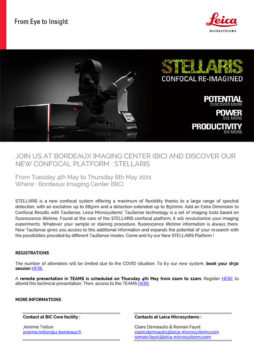 Join Leica at the BIC and discover their new confocal platform: STELLARIS

From Tuesday 4th May to Thursday 6th May 2021 Where: Bordeaux Imaging Center(BIC)
STELLARIS is a new confocal system offering a maximum of flexibility thanks to a large range of spectral detection, with an excitation up to 685nm and a detection extended up to 850nm n. Add an Extra Dimension to Confocal Results with TauSense.Leica Microsystems' TauSense technology is a set of imaging tools based on fluorescence lifetime. Found at the core of the STELLARIS confocal platform, it will revolutionize your imaging experiments. Whatever your sample or staining procedure, fluorescence lifetime information is always there. Now TauSense gives you access to this additional information and expands the potential of your research with the possibilities provided by different TauSense modes.
Come and try the New STELLARIS Platform!
REGISTRATIONS
The number of attendees will be limited due to the COVID situation. To try their new system, book your 1h30 session HERE.
A remote presentation in TEAMS is scheduled on Thursday 4th May from 11am to 12am.
Register HERE to attend this technical presentation.
Then, access to the TEAMS HERE.
Contact at BIC Core facility:
Jérémie Teillon