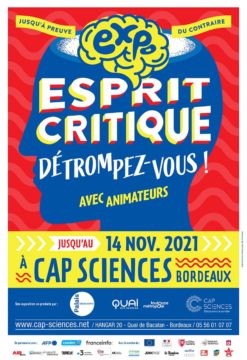 Bordeaux Neurocampus is a partner of the exhibition. Several researchers from our community have participated in the design of "Défi curieux", one of the animations.
Specific events are also planned during the exhibition. More information on these events will be available soon.
---
At Cap Sciences – Bordeaux
Welcome to the exhibition "Critical thinking, think again! "Rumours, fake news, preconceived ideas… Who can you trust? How do you know if information is reliable?Sharpening our critical thinking skills means becoming aware of what can make us vulnerable: our prejudices, our habits of thought, our emotions and sometimes… our unjustified mistrust! It is also about finding support to see things clearly. Sometimes it means admitting that we don't know… In short, it's learning to adjust your level of trust.Enter the experience of this exhibition, play at verifying information, explore tricky situations, unmask preconceived ideas.
This travelling exhibition "ESPRIT CRITIQUE, Détrompez–vous! "is part of the off–site activities of the Palais de la découverte (Paris), during its temporary closure for renovation. The exercise of critical thinking has been encouraged by the Palais since its creation in 1937. Cap Sciences in Bordeaux and the Quai des Savoirs in Toulouse are convinced of the relevance of this approach and have joined forces with Universcience to co–produce this exhibition, which is aimed at everyone aged 10 and over.
Average duration of the visit : 1h30All public / from 10 years old
Exhibition in four languages: French/English/Spanish/LSF
On social networks, comment and share on the exhibition with : @capsciences #ExpoEspritCritique #EspritCritique
---
More details
Cap Sciences
Hangar 20, Quai de Bacalan
33300 Bordeaux
Tél. 05 56 01 07 07
https://www.cap-sciences.net/au-programme/exposition/esprit-critique.html
---