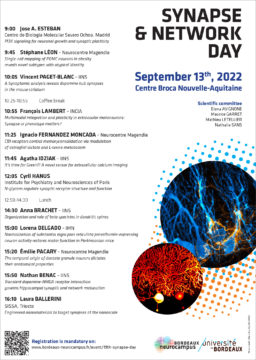 Venue: Centre Broca Nouvelle-Aquitaine
---
Program
9:00 – Jose A. ESTEBAN
Centro de Biología Molecular Severo Ochoa, Madrid
PI3K signaling for neuronal growth and synaptic plasticity
9:45 – Stéphane LÉON
Neurocentre Magendie
Single-cell mapping of POMC neurons in obesity reveals novel subtypes with atypical identity
10:05 – Vincent PAGET-BLANC
IINS
A Synaptomic analysis reveals dopamine hub synapses in the mouse striatum
10:25-10:55 – Coffee break
10:55 – François LAMBERT
INCIA
Multimodal integration and plasticity in extraocular motoneurons: Synapse or phenotype matters?
11:25 – Ignacio FERNANDEZ MONCADA
Neurocentre Magendie
CB1 receptors control memoryconsolidation via modulation of astroglial lactate and L-serine metabolism
11:45 – Agatha IDZIAK
IINS
It's time for GreenT! A novel sensor for extracellular calcium imaging
12:05 – Cyril HANUS
Institute for Psychiatry and Neurosciences of Paris
N-glycans regulate synaptic receptor structure and function12:50-14:30 Lunch
12:50-14:30 – Lunch
14:30 – Anna BRACHET
IINS
Organization and role of beta spectrins in dendritic spines
15:00 – Lorena DELGADO
IMN
Normalization of substantia nigra pars reticulata parvalbumin-expressing neuron activity restores motor function in Parkinsonian mice
15:20 – Émilie PACARY
Neurocentre Magendie
The temporal origin of dentate granule neurons dictates their anatomical properties
15:50 – Nathan BENAC
IINS
Transient dopamine-NMDA receptor interaction governs hippocampal synaptic and network maturation
16:10 – Laura BALLERINI
SISSA, Trieste
Engineered nanomaterials to target synapses at the nanoscale
Scientific Committee
Elena AVIGNONE (Neurocentre Magendie)
Maurice GARRET (INCIA)
Mathieu LETELLIER (IINS)
Nathalie SANS (Neurocentre Magendie)
Registration
Registrations for lunch are closed.
Please fill the registration formular by following the webpage down below:
https://framaforms.org/synapse-and-network-day-2022-1658751038