The 13th edition of nutrition-neuroscience meeting will take place online , Thursday 22 April 2021.
Be careful to watch the conference on Chrome.
Program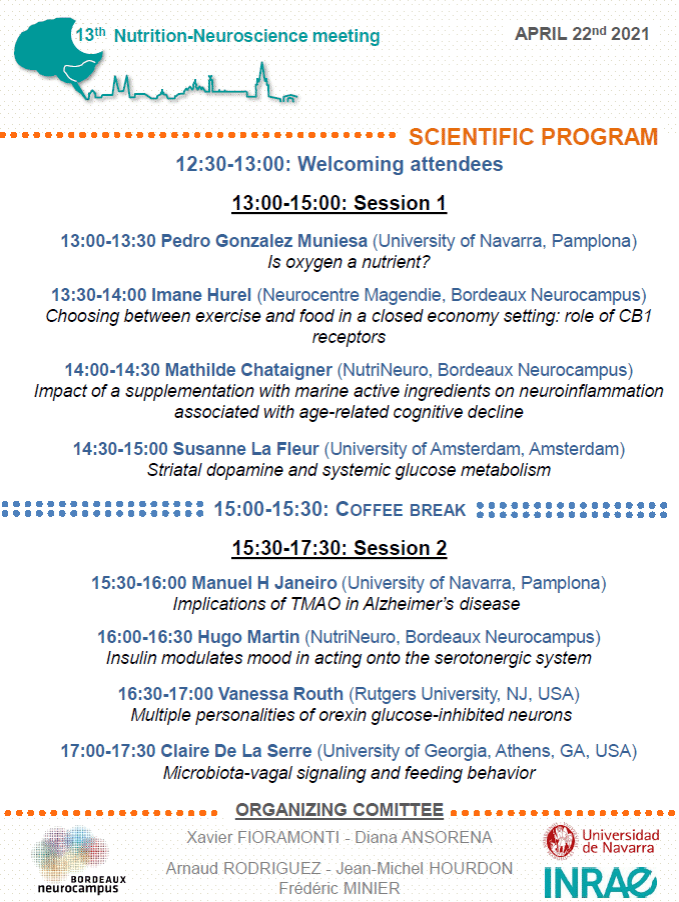 13:00-15:00: Session 1
13:00-13:30
Pedro Gonzalez Muniesa (University of Navarra, Pamplona)
Is oxygen a nutrient?
13:30-14:00
Imane Hurel (Neurocentre Magendie, Bordeaux Neurocampus)
Choosing between exercise and food in a closed economy setting: role of CB1 receptors
14:00-14:30
Mathilde Chataigner (NutriNeuro, Bordeaux Neurocampus)
Impact of a supplementation with marine active ingredients on neuroinflammation associated with age-related cognitive decline
14:30-15:00
Susanne La Fleur (University of Amsterdam, Amsterdam)
Striatal dopamine and systemic glucose metabolism
 – – – –   15:00-15:30: Coffee break – – – –

15:30-17:30: Session 2
15:30-16:00
Manuel H Janeiro (University of Navarra, Pamplona)
Implications of TMAO in Alzheimer's disease
16:00-16:30
Hugo Martin (NutriNeuro, Bordeaux Neurocampus)
Insulin modulates mood in acting onto the serotonergic system
16:30-17:00
Vanessa Routh (Rutgers University, NJ, USA)
Multiple personalities of orexin glucose-inhibited neurons
17:00-17:30
Claire De La Serre (University of Georgia, Athens, GA, USA)
Microbiota-vagal signaling and feeding behavior
Registration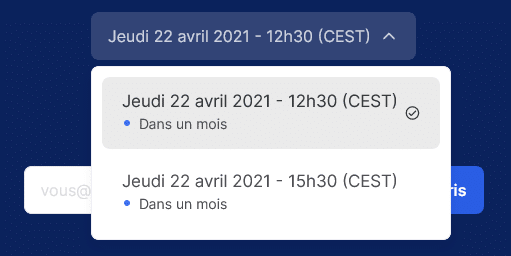 Free registration required at :
https://app.livestorm.co/inrae/13th-nutrition-neuroscience-day-2021?type=detailed
Be careful: it is mandatory to register in two steps, for each session. From 12:30 and from 15:30.
Contact
---