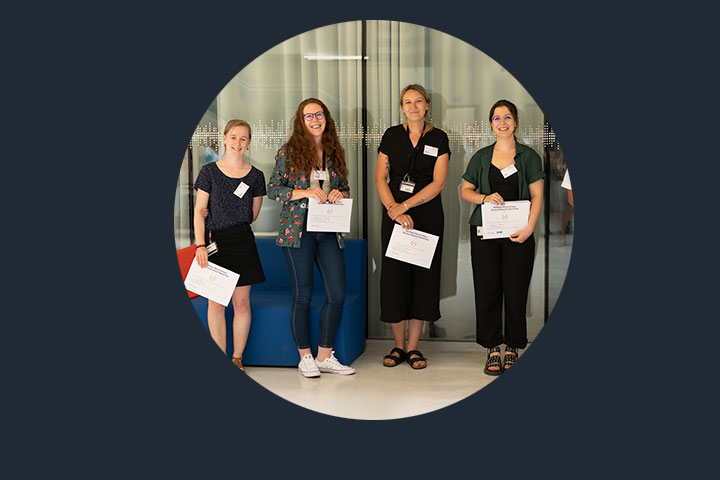 Laureates of the Doctoral Research Award Day
8 PhD students presented their doctoral research on Friday 17 June, during the second edition of the Bordeaux Neurocampus Doctoral Research Award Day.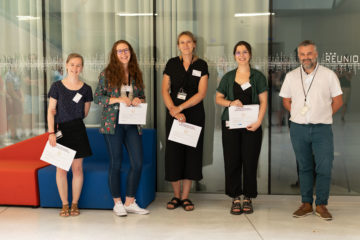 Congratulations to the 4 laureates:
– Noemie Depret (Casden Prize) – Magendie
– Zoé Grivet – IMN
– Catherine Marneffe – IINS
– Agata Nowacka – IINS
The second edition of this Day was really appreciated by the participants, the public and the jury. Congratulations to the 8 students, who all give a very good talk!
We thank the members of the jury (Jérôme Baufreton, Anna Brachet, Françoise Coussen, François Georges, Jean-Louis Guillou, Aude Panatier, Monique Vallée, Daniel Voisin and Laure Zago).
Participants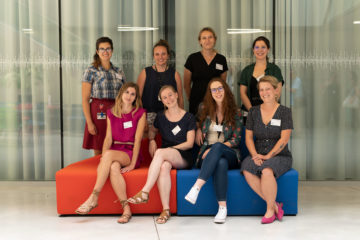 Cecilia CASTELLI – IINS
Thesis supervisor: Frédéric Lanore
Title: Study of synaptic plasticity mechanisms underlying memory consolidation in the hippocampo-neocortical network
Noémie DEPRET – Neurocentre Magendie
Thesis supervisor: Nathalie Sans
Title: Morphofunctional role of Vangl2 in the DG-CA3 circuit during postnatal development and aging
Zoé GRIVET – IMN
Thesis supervisor: Pascal Fossat
Title: Involvement of serotonergic descending pathways on pain in a mouse model of Parkinsonism
Lise GUILHEMSANG – IMN
Thesis supervisor: Thomas Boraud
Title: Contribution of arkypallidal globus pallidus neurons to levodopa-induced dyskinesias
Agata IDZIAK – IINS
Thesis supervisor: Valentin Nagërl
Title: Investigating the structure and function of brain extracellular space using super-resolution microscopy
Catherine MARNEFFE – IINS
Thesis supervisor: Christophe Mulle
Title: Role of presynaptic plasticity at mossy fiber-CA3 synapses: consequences of Syt7 abrogation in DG cells on CA3 circuits and memory encoding
Sarah MORCEAU – INCIA
Thesis supervisor: Mathieu Wolff
Title: Exploit or Explore? Neural circuits of learning in an uncertain environment
Agata NOWACKA – IINS
Thesis supervisor: Daniel Choquet
Title: The role of AMPA receptor surface mobility in short-term synaptic plasticity
---
With the support of
Bordeaux Neurocampus Graduate Program and Casden Banque Populaire


Publication: 18/06/22
Last update 27/06/22