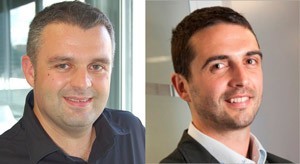 J. Baufreton, B. Bessière et al. dans Movement Disorders
Inhaling xenon ameliorates l-dopa-induced dyskinesia in experimental parkinsonism. Baufreton J, Milekovic T, Li Q, McGuire S, Moraud EM, Porras G, Sun S, Ko WKD, Chazalon M, Morin S, Normand E, Farjot G, Milet A, Pype J, Pioli E, Courtine G, Bessière B, Bezard E. Mov Disord. 2018 May 14. doi: 10.1002/mds.27404. [Epub ahead of print]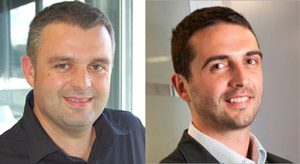 Jérôme Baufreton is co-directing the team "Dopamine & Neuronal Assemblies" at the CNRS UMR5293 unit, Institut des Maladies Neurodégénératives.

Baptiste Bessière did his Ph.D CIFRE at the University of Bordeaux in the team "Homeostasy, Allostasy Pathology Rehabilitation" directed by the Pr Guy Simonnet in collaboration with Air Liquide. He is currently working at Air Liquide Healthcare as Clinical Development Project Manager.

---
Xenon is noble gas which is known to freely diffuse across lipid membranes and interact with a great variety of protein complexes including NMDA receptors. Because Xenon acts as an antagonist of NMDA receptor, Baptiste Bessière got the original idea that this noble gas could be a good and safe antidyskinetic agent.
In this study, we demonstrated that Xenon displays the same efficacy than amantadine (a non-selective antagonist of NMDA receptors which is the only antidyskinetic drug currently available on the market) in reducing L-DOPA-induced dyskinesia (LIDs) in both rodents and primate models of Parkinson's disease. We also unravel its mechanism of action by showing that Xenon by inhibiting striatal NMDA receptors normalizes maladaptive cortico-striatal plasticity.
Abstract
Background: Parkinson's disease (PD) motor symptoms are treated with levodopa but long-term treatment leads to disabling dyskinesia. Altered synaptic transmission and maladaptive plasticity of corticostriatal glutamatergic projections play a critical role in dyskinesia pathophysiology.
Objectives: Since the noble gas xenon inhibits excitatory glutamatergic signalling primarily through allosteric antagonism of the NMDA receptors, we aimed at testing its putative antidyskinetic capabilities.
Results: Our study shows that xenon gas exposure (i) normalised synaptic transmission and reversed maladaptive plasticity of corticostriatal glutamatergic projections associated with levodopa-induced dyskinesia, (ii) ameliorated dyskinesia in rat and nonhuman primate models of PD and dyskinesia, and (iii) improved gait performance in a nonhuman primate model of PD.
Conclusions: These results pave the way for clinical testing of this believed safe, yet unconventional, approach.
Dernière mise à jour le 30.05.2018
Publication: 30/05/18
Mise à jour: 06/06/18