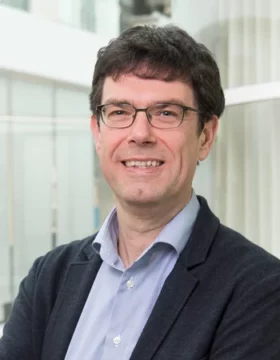 Venue: Centre Broca Nouvelle-Aquitaine
---
Thomas Langer
Max Planck Institute for Biology of Ageing
Köln, Germany
Invited by Giovanni Bénard, Laboratoire Maladies Rares, Génétique et Métabolisme (MRGM)
Title
Programming of mitochondria by proteolysis
Abstract
Mitochondria are essential metabolic organelles and integral part of numerous cellular signaling pathways. Cellular signals determine the composition of the mitochondrial proteome and the metabolic output of mitochondria, which influence cell fate during development, cell differentiation, in ageing and disease. Mitochondrial proteases are emerging as central regulators of these adaptive responses. The i-AAA protease YME1L regulates in concert with the stress-activated peptidase OMA1 mitochondrial fusion via OPA1 and couples mitochondrial shape and metabolic function. YME1L activation promotes growth of pancreatic ductal adenocarcinoma cells and preserves the self-renewal capacity of adult neural stem cells. OMA1 also promotes the integrated stress response by DELE1 cleavage and protects against cardiomyopathy induced by OXPHOS dysfunction. The mitochondrial rhomboid protease PARL, an intramembrane cleaving serine peptidase, has been linked to the assembly of respiratory complex III, coenzyme Q synthesis, PINK1-Parkin dependent mitophagy and the resistance against apoptosis and ferroptosis. Recent findings on novel roles of these proteases for the functional plasticity of mitochondria will be discussed.
Curriculum Vitae
Thomas Langer, born in 1964 in Straubing Germany, studied Biological Science at the University of Regensburg and graduated in the same subject at the Ludwigs-Maximilians-Unviersität of Munich. During his PhD he had the possibility to be a visiting scientist at the Memorial Sloan-Kettering Cancer Institute in New York, USA.  In 1996 he finally became a group leader at the Collaborative Research Centre 194 of the German Research Council in Munich. In the meantime, he passed the habilitation and consequently became a Professor of biochemistry at the Institute of Genetics of the University of Cologne in 2001. Since 2018 he leads his own department "mitochondrial proteostasis" as a Director at the Max Planck Institute for Biology of Ageing in Cologne, where after only one year he was appointed as the Managing Director.
Research Interests
Thomas Langer's research investigates the role of mitochondrial proteases for the maintenance of mitochondrial function during aging and age-related diseases. The aim is to understand the molecular mechanisms that contribute to the preservation of mitochondrial function during ageing and enable a dynamic adaptation of the cell- and tissue-specific mitochondrial proteome. He already received numerous awards for his research in the field of mitochondrial proteostasis. In 2017 he was awarded the Max Delbrück Prize from the University of Cologne. In 2016 he received the Wilhelm Feldberg Prize preceded by the Reinhart Koselleck Grant of the German Research Council.