Centre Broca Nouvelle-Aquitaine
Brain cell type analysis and why it matters for disease
---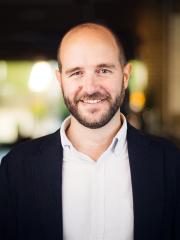 Jens Hjerling-Leffler
Senior Researcher
Department of Medical Biochemistry and Biophysics,
Karolinska Institutet, Stockholm, Sweden
https://staff.ki.se/people/jenhje

---
Abstract
Jens is an group leader at the Department of Medical Biochemistry and Biophysics, Karolinska Institutet, Stockholm, Sweden. His group's research is focused on how functional neuronal identity is regulated during postnatal and adolescent brain maturation and different brain states from a molecular and network point of view. The laboratory applies methods such as advanced mouse genetics, human genetics, single-cell transcriptomics and electrophysiology to analyze the role of cell types in genetically complex disorders and traits including Schizophrenia. His talk will describe their recent efforts understanding cellular diversity in the nervous system and how integrating this knowledge with that from human disease genetics can give actionable insights into complex disorders.
10 key publications
Xiaoyan Qian, Kenneth D. Harris, Thomas Hauling, Dimitris Nicoloutsopoulos, Ana B. Muñoz-Manchado, Nathan Skene, Jens Hjerling-Leffler & Mats Nilsson. Probabilistic cell typing enables fine
mapping of closely related cell types in situ. Nat Methods. 2019
Abdo H, Calvo-Enrique L, Lopez JM, Song J, Zhang MD, Usoskin D, El Manira A, Adameyko I,Hjerling-Leffler J, Ernfors P. Specialized cutaneous Schwann cells initiate pain sensation. Science. 2019 Aug 16;365(6454):695-699. doi: 10.1126/science.aax6452. PMID: 31416963
Julien Bryois, Nathan G. Skene, Thomas Folkmann Hansen, Lisette J.A. Kogelman, Hunna J. Watson, Eating Disorders Working Group of the Psychiatric Genomics Consortium, International Headache
Genetics Consortium, The 23andMe Research Team, Leo Brueggeman, Gerome Breen, Cynthia M. Bulik, Ernest Arenas, Jens Hjerling-Leffler*, Patrick F. Sullivan*. Genetic Identification of Cell Types Underlying Brain Complex Traits Yields Novel Insights Into the Etiology of Parkinson's Disease. BioRxiv 2018.  *Shared corresponding authors
Muñoz-Manchado AB, Bengtsson Gonzales C, Zeisel A, Munguba H, Bekkouche B, Skene NG,Lönnerberg P, Ryge J, Harris KD, Linnarsson S, Hjerling-Leffler J. Diversity of Interneurons in the Dorsal Striatum Revealed by Single-Cell RNA Sequencing and PatchSeq. Cell Rep. 2018 Aug 21;24(8):2179-2190.e7.
Zeisel A, Hochgerner H, Lönnerberg P, Johnsson A, Memic F, van der Zwan J, Häring M, Braun E, Borm LE, La Manno G, Codeluppi S, Furlan A, Lee K, Skene N, Harris KD, Hjerling-Leffler J, Arenas E, Ernfors P, Marklund U, Linnarsson S. Molecular Architecture of the Mouse Nervous System. Cell.
2018 Aug 9;174(4):999-1014.e22.
Harris KD, Hochgerner H, Skene NG, Magno L, Katona L, Bengtsson Gonzales C, Somogyi P, Kessaris N, Linnarsson S, Hjerling-Leffler J. Classes and continua of hippocampal CA1 inhibitory neurons revealed by single-cell transcriptomics. PLoS Biol. 2018 Jun 18;16(6):e2006387. doi:
10.1371/journal.pbio.2006387. eCollection 2018 Jun. PMID: 29912866
Skene NG, Bryois J, Bakken TE, Breen G, Crowley JJ, Gaspar HA, Giusti-Rodriguez P, Hodge RD, Miller JA, Muñoz-Manchado AB, O'Donovan MC, Owen MJ, Pardiñas AF, Ryge J, Walters JTR, Linnarsson S, Lein ES; Major Depressive Disorder Working Group of the Psychiatric Genomics
Consortium, Sullivan PF*, Hjerling-Leffler J.* Genetic identification of brain cell types underlying schizophrenia. Nat Genet. 2018 Jun;50(6):825-833. doi: 10.1038/s41588-018-0129-5. Epub 2018 May
21 PMID: 29785013 * Shared corresponding authors
Zeisel A, Muñoz-Manchado AB, Codeluppi S, Lönnerberg P, La Manno G, Juréus A, Marques S, Munguba H, He L, Betsholtz C, Rolny C, Castelo-Branco G, Hjerling-Leffler J*, Linnarsson S*. Brain structure. Cell types in the mouse cortex and hippocampus revealed by single-cell RNA-seq. Science. 2015 Mar 6;347(6226):1138-42. doi: 10.1126/science.aaa1934. Epub 2015 Feb 19. PMID: 25700174 *Shared corresponding author
Muñoz-Manchado AB, Foldi C, Szydlowski S, Sjulson L, Farries M, Wilson C, Silberberg G, Hjerling- Leffler J. Novel Striatal GABAergic Interneuron Populations Labeled in the 5HT3a(EGFP) Mouse. Cereb Cortex. 2016 Jan;26(1):96-105. Epub 2014 Aug 21.
Rudy B, Fishell G, Lee S, Hjerling-Leffler J. Three groups of interneurons account for nearly 100% of neocortical GABAergic neurons. Dev Neurobiol. 2011 Jan 1;71(1):45-61. doi: 10.1002/dneu.20853.