---
Polygenic risk for psychiatric disorders and postmortem co-expression provide different perspectives on the relationship between genetic variation and cognition.
Abstract
The talk will give a general perspective on polygenic risk and use the publication A miR-137-related biological pathway of risk for Schizophrenia is associated with human brain emotion processing as a case study.
Genome-Wide-Association studies have involved miR-137 in schizophrenia. However, the biology underlying this statistical evidence is unclear. Statistical polygenic risk for schizophrenia is associated with working memory, while other biological evidence involves miR-137 in emotion processing. We investigated the function of miR-137 target schizophrenia risk genes in humans.
We identified a prefrontal co-expression pathway of schizophrenia-associated miR-137 targets and validated the association with miR-137 expression in neuroblastoma cells. Alleles predicting greater co-expression of this pathway were associated with greater prefrontal activation during emotion processing in two independent cohorts of healthy volunteers (N1=222; N2=136). Statistical polygenic risk for schizophrenia was instead associated with prefrontal activation during working memory.
A co-expression pathway links miR-137 and its target genes to emotion processing and risk for schizophrenia. Low prefrontal miR-137 expression may be related with SCZ risk via increased expression of target risk genes, itself associated with increased prefrontal activation during emotion processing.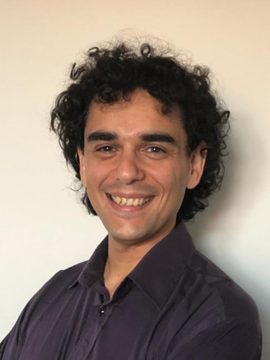 Giulio Pergola, PhD
Assistant Professor in Biological Psychology
Scientific Director – Group of Psychiatric Neuroscience
Department of Basic Medical Science, Neuroscience and Sense Organs
University of Bari Aldo Moro – Italy
Marie Curie Visiting Scientist
Lieber Institute for Brain Development – Baltimore, MD
---
Invited by Susanna Pietropaolo (INCIA)