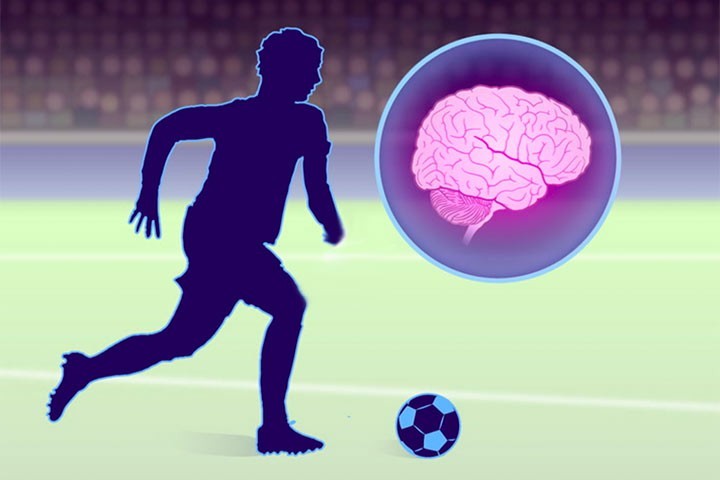 Does repeated sub-concussive heading in soccer increase the risk of neurodegenerative diseases?
Despite the cardiovascular benefits of physical activity practice, concerns have been raised regarding the risk of neurodegenerative disease in contact sports like boxing, American football, because of the exposure to repeated concussions. Similarly, the consequences of repeated sub-concussive head impacts, like heading the ball in soccer, have been recently questioned from various cognitive and neuroimaging studies.  Very recently, updates on the current knowledge and prevention used at the level of the player in soccer and in rugby have been presented during 2 scientific sessions organized by Dr Cassoudesalle and Prof Dehail (EA 4136, University of Bordeaux) at SOFMER 2019 in October at Bordeaux. There are still several unanswered questions, and especially on the brain consequences at longterm.
The recent paper (October 21st, 2019) in "the new England Journal of Medicine" By Dr MacKay et al, from Glasgow showed from a retrospective study that the mortality by neurodegenerative disease was higher in the former Scottish professional soccer players than matched controls. This recent study made a buzz in scientific as well as sport communities. Even then there is no direct proof that repeated heading is the cause, there was a speculation in this direction. Thus, as a direct consequence of the current paper, Scotland is proposing to ban the use of heading for the youth soccer players.
However, to investigate a potential link between repeated sub-concussive head injury with neurodegenerative diseases or accelerating aging, prospective studies are needed and currently undergoing at University of Bordeaux in a collaboration between Prof Dehail, Dr Cassoudesale  (EA 4136) and Dr Badaut (BMI, INCIA).
As discussed in the 2 sessions at SOFMER, there is an urgent need of better understanding of the pathophysiology in order to develop new biomarkers to have a better prevention, in soccer and all team sport exposing the players to repeated sub-concussive head impacts.
Jérôme Badaut (INCIA), Hélène Cassoudesalle (HACS) and Patrick Dehail (HACS)
---
Related article
Neurodegenerative Disease Mortality among Former Professional Soccer Players.
Daniel F. Mackay, Emma R. Russell, Katy Stewart, John A. MacLean, Jill P. Pell, and William Stewart
November 7, 2019
N Engl J Med 2019; 381:1801-1808
DOI: 10.1056/NEJMoa1908483
Publication: 14/11/19
Mise à jour: 22/11/19