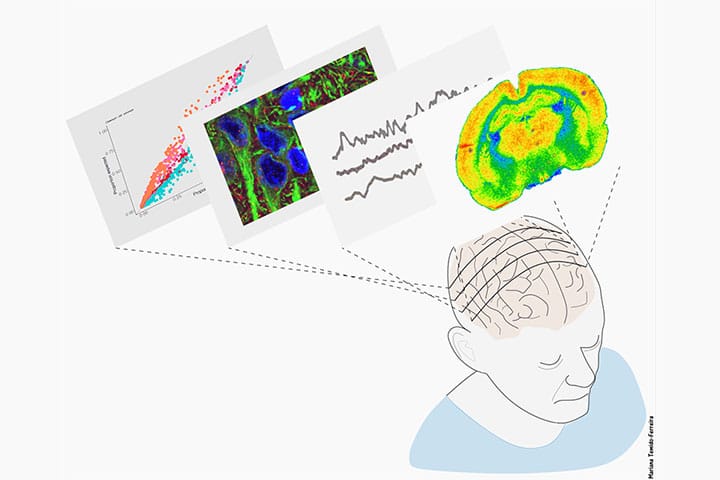 « Ageing cognition » Cajal course: registration are open
20 September – 8 October 2021
Bordeaux School of Neuroscience, Bordeaux, France
Application deadline: 31 May 2021
---
Course overview
The normal aging process is associated with reduced performance on cognitive tasks that require one to quickly process or transform information to make a decision, including measures of speed of processing, executive cognitive function, working and relational memories. Structural and functional alterations in the brain correlate with these age-related cognitive changes, such as loss of synapses, and dysfunction of neuronal networks. It is crucial to develop new approaches that consider the whole neuroanatomical, endocrine, immunological, vascular and cellular changes impacting on cognition.
This 3-week course will cover the fundamentals of cognitive aging -including inter-individual differences, cognitive and brain reserve and risk factors- and highlight the newest functional imaging methods to study human brain function. The Faculty will share the state-of-the-art molecular, optical, computational, electrophysiological, behavioral and epidemiological approaches available for studying the aging brain in diverse model systems.
Students will learn the potential and limitations of these methods, through practical experience in a combination of lectures addressing aging in both humans and animal models and hands-on-projects. They will acquire sufficient practical experience to model, design and interpret experiments and brainstorm on novel technologies and hypotheses to explore the aging of the brain using more integrative and creative approaches.
Course directors
Luísa V. Lopes
Course Director
Neurobiology of Ageing & Disease – iMM Lisboa – Portugal
Cheryl L. Grady
Co-director
The Rotman Research Institute, Baycrest & University Toronto – Canada
Nora Abrous
Co-director
Neurocentre Magendie
More details
http://cajal-training.org/on-site/ageing-cognition/
Publication: 20/05/21
Mise à jour: 01/06/21