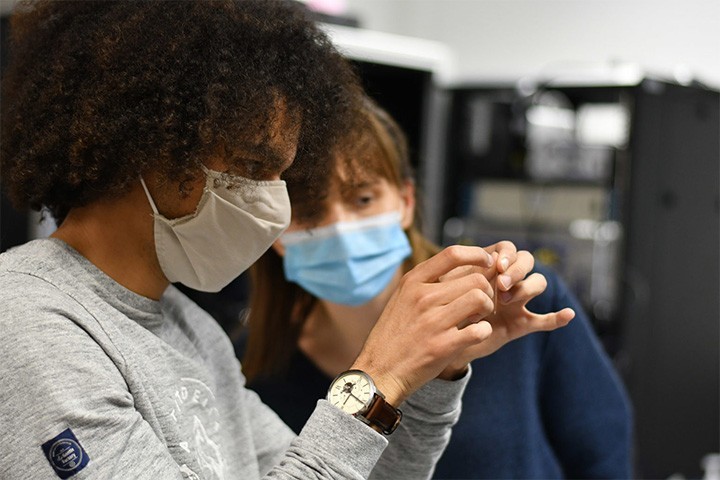 Workshop "Introduction to experimental neuroscience"
July 19 to 31
Deadline for application: 9 May
For Master and doctoral students from various disciplines (biology, physics, chemistry, mathematics, computer science, psychology, medicine, pharmacy…)
---
This workshop offers a unique opportunity to discover methods and concepts in neuroscience research through hands-on training within the premises of the Bordeaux School of Neuroscience. Participants from various fields of science follow case-based training by taking part in mini-projects supervised by experienced doctoral students and international experts in neuroscience.
Program
This workshop focuses on basic neuroscience concepts and methods. It includes short lectures and hands-on experiments through mini-projects covering questions and techniques used in modern neuroscience research laboratories.
Topics covered will include:
Cell biology and imaging
Molecular and cellular biology, transcriptomics
In vivo surgery, gene transfer
Anatomy, brain clearing, connectomics and electron microscopy
In vitro electrophysiology and optogenetics
In vivo electrophysiology and imaging
Behavior
Human neuroscience
Neurocomputation
What will you gain from this experience?
This project-based training will allow participants to:
Better understand basic experimental approaches in neuroscience research
Directly perform the experiments
Strengthen their international scientific network
Practical information
Participants: 25
Languages: English or French (depending on the public)
Location: Bordeaux School of Neuroscience
Student profile: Master and doctoral students from various disciplines (biology, physics, chemistry, mathematics, computer science, psychology, medicine, pharmacy…)

Participation fees for the students:
Free of charge for University of Bordeaux participants (lunch included)
1700 € per external participant, all included (lodging + lunch) / 1000 € (without lodging)
Travelling fees remain at the participant's charge.
Covid-19 measures : Participation fees will be reimbursed to participants unable to come to Bordeaux for Covid-19 restrictions.
For the instructors: Travels, lunch and lodging are offered by the Program.
Grants: A limited number of grants will be awarded to participants upon request (see application form).
For more information, please contact :
A panel of experts
International experts from different areas of neuroscience will supervise the program organization:
Muriel Darnaudery: Rodent behavior
Xavier Fioramonti: Electrophysiology
Jean-Louis Guillou: Rodent behavior
Marc Landry: Microscopy
Arthur Leblois: Networks and neurocomputation
Christophe Mulle: Electrophysiology
David Perrais: Cellular neurobiology
Each mini-project will be supervised by experienced doctoral students.
Application
https://forms.gle/xjcCC8uyhh8VLJcR6
---
Organized by the Bordeaux Neurocampus Graduate Program and the Bordeaux School of Neuroscience
Publication: 03/05/21
Mise à jour: 10/05/21