Venue : Centre Broca Nouvelle-Aquitaine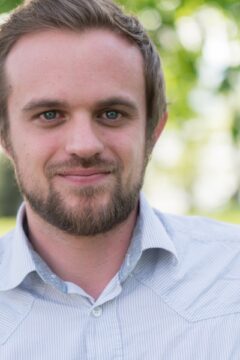 ---
Université de Genève, Suisse
Site web : https://www.unige.ch
Invité par Pascal Fossat (IMN)
Title
Cellular determinant of negative and positive reinforcement in fentanyl addiction
Abstract
Opioids have been used since centuries for their potent effect as painkillers. When used chronically, opioids cause addiction in more than a thirds of users, a fraction underestimated but exceeding the one observed with psychostimulants (Anthony et al.,1994). Despite its rewarding property, it is well established that opioids induce strong dependence, defined by a stereotypical withdrawal syndrome (Comer and Cahill, 2018). Here we test whether negative reinforcement, driven by the unpleasant withdrawal syndrome can add to positive reinforcement, and facilitate drug consumption. To address this question, we use genetic manipulation, in vivo recording and operant behavior in mice submitted to precipitation of withdrawal. We first demonstrate that fentanyl inhibits GABA neurons in the ventral tegmental area (VTA) via mu-opioid receptors (MORs), causing disinhibition of dopamine neurons that elicits a striatal DA transient underlying positive reinforcement. Furthermore, deleting MORs in the VTA abolished the reinforcing DA transients but had no impact on precipitation of withdrawal. Mapping cFos and neuronal activities during precipitated withdrawal revealed strong activation of MOR-positive neurons in the central amygdala (CeA). Removing µORs from these cells eliminated the escape jumps typically seen during withdrawal, suggesting that µORs in the CeA drive negative reinforcement. Indeed, the mice quickly learned to press a lever to turn off the optogenetic stimulation of µOR CeA neurons.. To conclude, our work demonstrates that MOR-expressing neurons of the CeA are the subcellular determinant of induction for negative reinforcement. 
Key publications
Courtin J, Chaudun F, Rozeske RR, Karalis N, Gonzales-Campo C, Wurtz H, Abdi A, Baufreton J, Bienvenu TC and Herry C. (2014) – Prefrontal parvalbumine interneurons shape neuronal activity to drive fear expression. Nature.
Rozeske RR, Valerio S, Chaudun F, Herry C. (2014) Prefrontal neuronal circuits of contextual fear conditioning. Genes Brain Behav.
Karalis N*, Dejean C*, Chaudun F*, Khoder S, Rozeske RR, Wurtz H, Bagur S, Benchenane K, Sirota, Courtin J and Herry C. (2016) 4- Hz oscillations synchronize prefrontal-amygdala circuits during fear behavior. Nature Neuroscience.* equal contribution
Tovote P, Esposito MS, Botta P, Chaudun F, Fadok JP, Markovic M, Wolff SB, Ramakrishnan C, Fenno L, Deisseroth K, Herry C, Arber S and Luthi A. (2016) Midbrain circuits for defensive behaviour. Nature.
Dejean C, Courtin J, Karalis N, Chaudun F, Wurtz H, Bienvenu TC and Herry C. (2016) Prefrontal neuronal assemblies temporally control fear behaviour. Nature.
Rozeske RR, Jercog D, Karalis N, Chaudun F, Khoder S, Girard D, Winke N and Herry C. (2018) Prefrontal-periaqueductal gray projecting neurons mediate context fear  discrimination. Neuron.
Jercog D, Winke N, Sung K, Martin Fernandez M., Francioni C, Rajot D, Courtin J, Chaudun F, Jercog P, Valerio S and Herry C. (2021) Dynamical prefrontal population coding during defensive behaviours. Nature
Chaudun F, Bagur S, Dejean C, Chadney O, Rozeske RR, Wurtz H, Courtin J and Herry C. Prefrontal-ventral periaqueductal gray pathway regulates fear behaviour. In prep.
Chaudun F, Python L, Liu Y, Hiver A, Valjent E and Luscher C. Cellular determinat of negative reinforcement in fentanyl addiction. In Prep
Chaudun F, Pascoli V., Esmaeili V and Luscher C. Neuronal Orbitofrontal cortex activity signature underlying compulsivity during optogenetic dopamine self-stimulation. In Prep