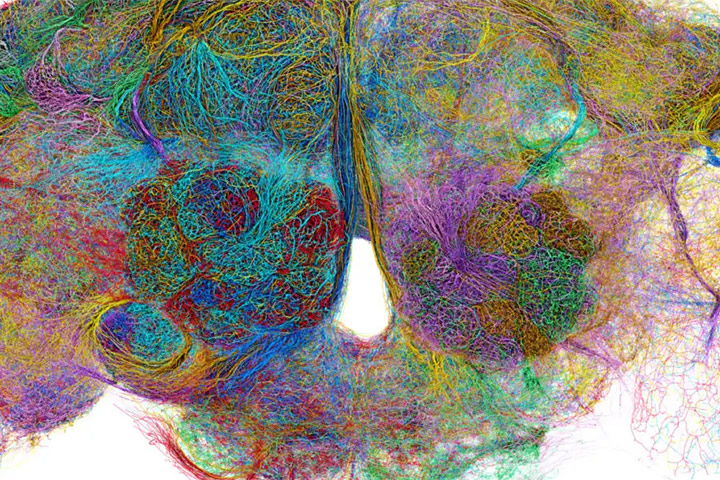 Cajal lectures: Connectomics from micro- to meso- and macro-scales
Venue: CGFB
---
Course directors
Gregory Jefferis, MRC LMB and University of Cambridge, UK
Jinny Kim, Korea Institute of Science and Technology, Korea
Nicolas Renier, Paris Brain Institute, France
Casey Schneider-Mizell, Allen Institute of Brain Science, US
Lectures
September 19 – 9:00am
Valentin Nägerl (Bordeaux University, France)
STED imaging of brain microanatomy.
September 21 – 9:00am
Claire Wyart (ICM Institute for Brain and Spinal Cord, France)
Optical methods to probe Connectivity of sensorimotor circuits in brainstem and spinal cord.
September 23 – 9:00am
Jae-Byum Chang (Korea Advanced Institute of Science and Technology, KAIST, Korea)
Super-resolution imaging of whole mouse embryos via whole-body expansion microscopy.
September 25 – 9:00am
Alexandra Pacureanu (European Synchrotron Radiation Facility, France)
September 26 – 9:00am
Jonny Kohl (Francis Crick Institute , UK)
Form, function and flexibility of parenting circuits.
September 28 – 9:00am
Moritz Helmstaedter (Max Planck Institute for Brain Research, Germany)
Cerebral Cortex Connectomics.
September 29 – 9:00am
Hiroki Ueda (UTokyo/RIKEN BDR, Japan)
Towards Human Systems Biology of Sleep/Wake Cycles: Phosphorylation Hypothesis of Sleep.
October 2 – 9:00am
Constantin Pape (Georg August Universität Göttingen, Germany)
Instance Segmentation Methods for Large Volumetric EM.
October 3 – 9:00am
Christel Genoud (University of Lausanne, Switzerland)
VolumeEM techniques to study the central nervous system.
October 4 – 9:00am
Casey Schneider-Mizell (Allen Institute of Brain Science, USA)
TBA
October 4 – 3:30pm
Gwyneth Card (Columbia University, USA)

About the Cajal lectures
The Cajal lectures are organized in the frame of the Cajal courses, located in the Bordeaux school of Neuroscience. They are open to everyone.
More details about this course:
https://cajal-training.org/on-site/connectomics/
Publication: 14/09/23
Mise à jour: 02/10/23