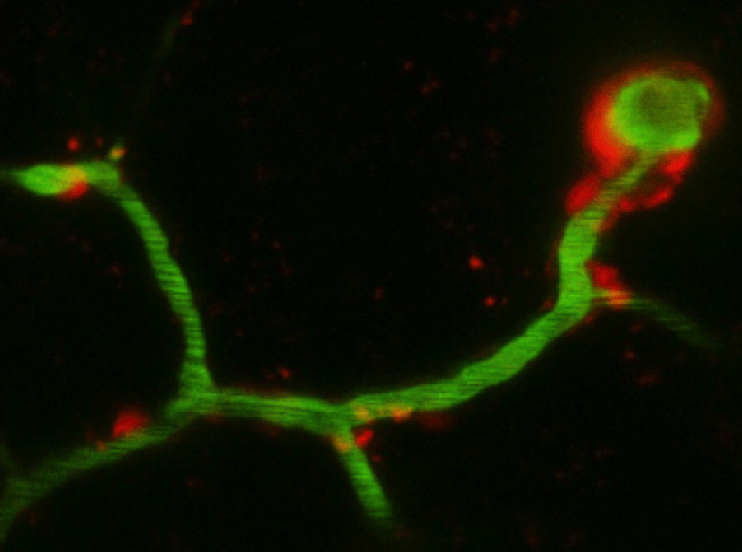 Cajal course: Brain Homeostasis and Neurovascular Coupling
Du 20 mai au 8 juin.
Programme des conférences
Lieu : salle de conférence du CGFB
Tuesday 21st May
9:00 Martin LAURITZEN
« Basics of brain homeostasis and cerebral blood flow regulation »
Wednesday 22nd May
9:00 Edith HAMEL
« The cellular basis of the neurovascular unit, regulation and pathology »
Thursday 23th May
9:00 Ulrich DIRNAGL
« Increasing the validity and reproducibility of neurovascular research »
Saturday 25th May
9:00 David ATTWELL
« Control of cerebral blood flow by capillary pericytes in health, ischaemia and Alzheimer's disease »
Monday 27th May
9:00 Constantino IADECOLA
« Neurovascular bases of cognitive dysfunction: blood flow and beyond »
Thursday 30th May
9:00 Mickaël TANTER
« Functional and superresolution ultrasound for whole brain neuroimaging »
Friday 31st May
9:00 Robert G. THORNE
11:00 Bruno WEBER
« Metabolic coupling of brain cells »
Saturday 1st June
9:00 Jean-François GHERSI-EGEA
« Known and less known functions of the choroid plexus-CSF system »
Monday 3rd June
9:00 Britta ENGELHARDT
« The brain barriers establish CNS immune privilege »
Thursday 6th June
9:00 Anna DEVOR
« Neurovascular coupling and O2 metabolism »
11:00 Jérôme BADAUT
« Water homeostasis and brain edema »
Friday 7th June
9:00 Frédéric LESAGE
« Changes in microvasculature properties with age and its impact on MRI modelling »
---
About the Cajal course
The Neurovascular unit (NVU) is a physiological entity that consists of fine-tuned interactions between cerebral blood vessels, pericytes, astrocytes, immune cells and neurons in order to maintain brain homeostasis. The NVU contributes to brain vessel properties such as blood-brain barrier (BBB) and cerebral blood flow regulation. Several brain disorders are associated with NVU dysfunction. There have been several recent advances in knowledge and in the technologies available to study the NVU. This advanced course will allow students to gain basic knowledge and hands-on experience with various techniques, such as in vivo/ex vivo high-resolution imaging, magnetic resonance imaging, brain vascular pathology rodent models and in vitro BBB models.
Course director
Martin Lauritzen
Department of Neuroscience
University of Copenhagen
and Rigshospitalet
Denmark

Co-directors
 Edith Hamel
Montréal Neurological Institute
McGill University
Canada
Jérôme Badaut
Brain Molecular Imaging Lab
CNRS – INCIA
University of Bordeaux
France
---
David Attwell (Department of Neuroscience, Physiology & Pharmacology, University College London, UK)
Anna Devor (Department of Neurosciences, UC San Diego School of Medicine, USA)
Ulrich Dirnagl (Department of Experimental Neurology, Charité Universitätsmedizin Berlin, Germany)
Britta Engelhardt (Theodor Kocher Institute, University of Bern, Switzerland)
Jean-François Ghersi-Egea (Fluids and barriers of the CNS, Lyon Neuroscience Research Center, France)
Costantino Iadecola (Feil Family Brain & Mind Research Institute, Weill Cornell Medicine, New York, USA)
Frédéric Lesage (Department of Electrical Engineering, Polytechnique Montréal, Canada)
Mickael Tanter (French National Institute for Health and Medical Research, Institut Langevin, ESPCI, Paris, France)
Robert G. Thorne (Denali Therapeutics, South San Francisco, California, USA/ Pharmaceutical Sciences Division, University of Wisconsin-Madison, USA)
Bruno Weber (Institute of Pharmacology and Toxicology, University of Zurich, Switzerland)
---
24/05/19